Yuasa YCX smart battery chargers & maintainers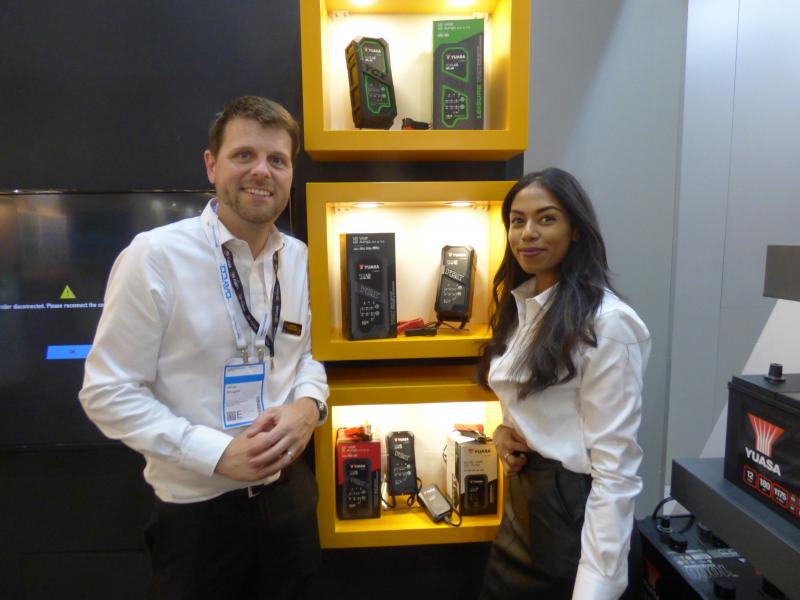 Pictured with the new Yuasa Charging range are; James Douglas, European Group Marketing Manager for GS Yuasa Battery Europe and Methusha Mahalingam of Yuasa Germany.
Monday, September 19, 2022
The world's leading battery manufacturer, Yuasa, have launched a brand-new range of fully automatic YCX smart battery chargers and maintainers at Automechanika in Frankfurt. The four-tiered range has been developed by GS Yuasa engineers for high performance charging of motorcycle, car, commercial and leisure vehicle batteries.

Developed using GS Yuasa's leading battery expertise, which spans over 125 years, the YCX1.5, YCX6, YCX12 and YCXL12 have been designed to extend battery life, maintain performance and provide the ultimate reliability for which the Japanese battery manufacturer is renowned.

Yuasa has utilised its unrivalled knowledge and experience, to develop YCX chargers, which have bespoke 9 or 7 stage charging profiles and are the perfect match for all vehicle battery brands. They also have higher power settings than most other comparable models on the market, so batteries can be charged faster and more reliably on or off the vehicle.

The YCX6, YCX12 and YCXL12 models are also actively cooled, ensuring that they maintain a stable power output, resulting in longer charger service life when in use for extended periods of time.

Peter Whitaker, General Manager, Automotive and Motorcycle Engineering at GS Yuasa Battery Europe Ltd said, "We are incredibly excited to unveil our new range of bespoke YCX smart battery chargers and maintainers. It has been an extensive process to develop our own ground-breaking range, from benchmarking every charger on the market to refining our own charging parameters, modes and settings in order to optimise their performance and get the very best from the batteries they charge, whether GS Yuasa or another battery manufacturer."

Peter added, "They are trade-rated with features such as robust construction and active cooling. This keeps components cool for stability and reduces degradation, meaning that they are built to last and perform throughout their long life."

Each charger has an automatic maintenance mode that sustains optimum state of charge during battery storage. Enhanced safety features, including short circuit, overcharging and reverse polarity protection guarantee ultimate peace of mind for all users.

James Douglas, European Group Marketing Manager for GS Yuasa Battery Europe added, "The YCX range features our world-renowned industry leading technology to ensure optimum charging performance for lead acid conventional, Start-Stop, EFB, AGM, lithium and gel battery."

The chargers also feature simple navigation buttons and clear LED indicators for complete ease of use. The larger models have durable splashproof construction with integrated clamp and eyelet connectors and built-in power supply modes.

Chargers are now available from Yuasa stockists.
Categories: