Schaeffler REPXPERT upcoming free training
Schaeffler REPXPERT's Nigel Mepham chats with Verona Ellis about upcoming REPXPERT training
Tuesday, February 16, 2021
@AutobizIreland had a Zoom chat with Schaeffler REPXPERT's Nigel Mepham, about the upcoming Free Tea-Break training sessions "Customer Challenges" and "Managing the Heat". We asked Nigel, how can Irish technicians register for these free training sessions and what will they learn? Watch HERE

'Customer Challenges', takes place on Tuesday 23rd February at 12:30 and Wednesday 24th at 12:30 & 18:30, and will include advice from guest speaker Andy Savva.

'Managing the Heat', takes place on Tuesday 16th March at 12:30 and Wednesday 17th March at 12:30 & 18:30.

As Nigel explains, technicians can register in advance for these training sessions via the 'Tea-break training' button on the REPXPERT website. If you are not already a registered member with REPXPERT, you can sign up first, then register for the training. Sign Up HERE

There is an extensive Q&A session at each training and Nigel pointed out that questions during the Q&A can cover other Schaeffler products, it is not confined to what has been discussed during the training event.
After each event, participants will be sent a link to a very short survey about the training, which on completion will provide access to the downloadable course notes, a certificate for use when claiming CPD points, plus REPXPERT technical material relating to the topic.

Information on Schaeffler products and systems, fitting instructions, labour times and much more can be found on the REPXPERT workshop portal at www.repxpert.co.uk or by using the REPXPERT app, which is available free for all iOS and Android devices from the relevant app store.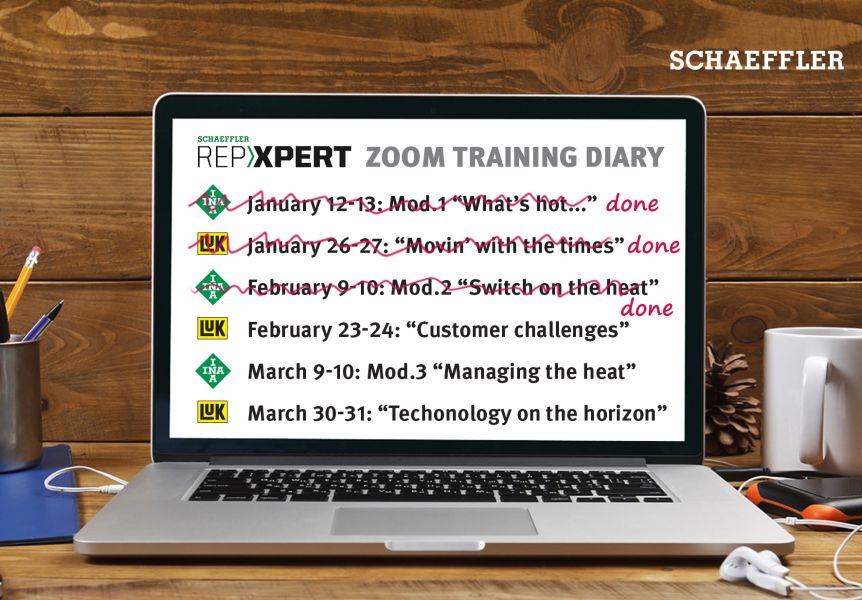 Categories: