Steering & Suspension Solutions from Borg & Beck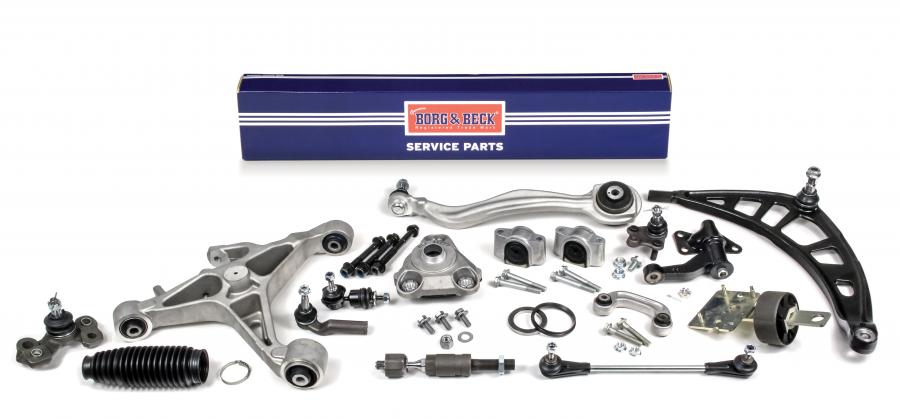 Thursday, October 14, 2021
With steering and suspension one of the key profit centres for independent garages, First Line Ltd. has highlighted how it can offer a comprehensive solution with over 9,100 Steering & Suspension references in its respected the Borg & Beck range. This is one of the largest and most relevant product offerings in the Irish aftermarket and offers many benefits to workshops.

Borg & Beck's Steering & Suspension components are designed and manufactured to the highest of standards and are guaranteed premium quality products sourced from ISO accredited production facilities. Choosing Borg & Beck provides installers with the confidence that they will always be getting a premium quality product that directly replaces the original component. Plus, they can be assured that they will have everything they need to complete the job efficiently and effectively.

Where applicable, Borg & Beck Suspension Arms, Ball Joints and Link Bars are supplied with all the necessary fixtures/fittings which are essential to carry out the installation quickly and easily. For example, the camber bolts on the Land Rover Discovery 3/4 and Range Rover Sport are often difficult to remove and sometimes need to be cut off. Therefore, Borg & Beck provides an all-inclusive solution by supplying the bolts with the arm for a hassle-free installation.

Borg & Beck is dedicated to listening to market feedback and offering solutions to technicians component requirements. Borg & Beck offers market leading solutions for its subframes, as they typically contain rubber and metal bonded bushes. Usually, each subframe has a pair of bushes located at the front and rear of the frame. However, there are more complicated designs, as some vehicles can have up to eight bushes in various locations.

Bushes are a vital part of the suspension system, as they isolate vibration and road noise, increase driver comfort and enhance the vehicle's handling. They are individually designed with unique positional voids and specific rubber shore hardness, meaning there's no 'one-size-fits-all' solution. Symptoms of worn bushes include clunking, creaking or rattling noises, especially over rough surfaces. In some cases, if the rubber bonding has detached, the subframe will move, usually at the back of the vehicle.

In many cases, the subframe bush is not available separately from the OE manufacturer, but as part of the complete subframe, meaning workshops and vehicle owners have the choice of replacing the entire component at a high cost or using a reconditioned subframe. This results in more time and money being spent on repairs that aren't necessary. Borg & Beck, however, offers a cost-effective solution by supplying bushes separately.

One example is the subframe bushes for the Land Rover Discovery Sport, Freelander II and Evoque. The OE dealer only offers the complete front and rear subframes, inclusive of the bushes, making the replacement a very costly exercise. By providing the bushes separately, Borg & Beck has made the bush replacement, not only a far most cost-effective option, but also a more environmentally friendly practice, as there is no need to discard the entire subframe assembly.

Similarly on the Honda Civic VIII (2005>12), a new subframe can cost up to £1,200. However, Borg & Beck provides the replacement bushes, which can be fitted quickly and easily and very cost effectively.

All Borg & Beck parts can be found on webcat.borgandbeck.com. Borg & Beck also actively shares product and technical information on its social media channels. Simply search for Borg & Beck or First Line Ltd.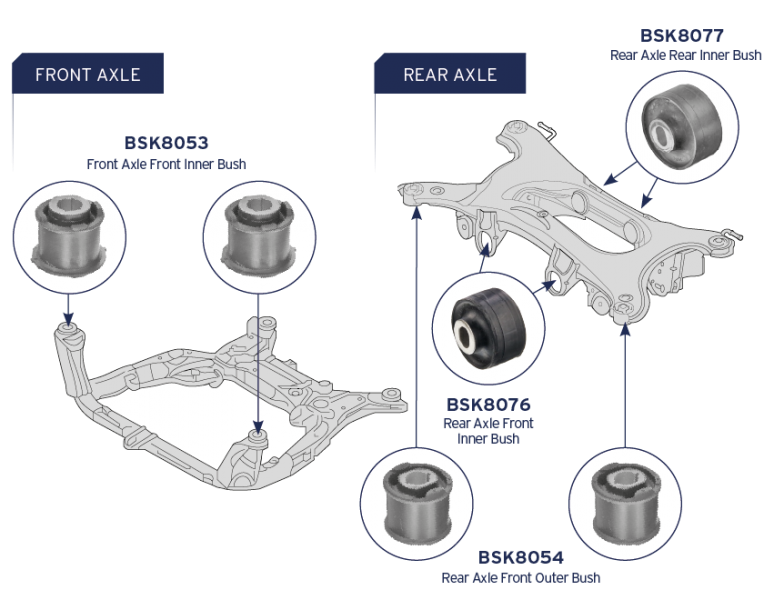 Land Rover Bushes
Categories: