At your factor - Hyundai Santa Fe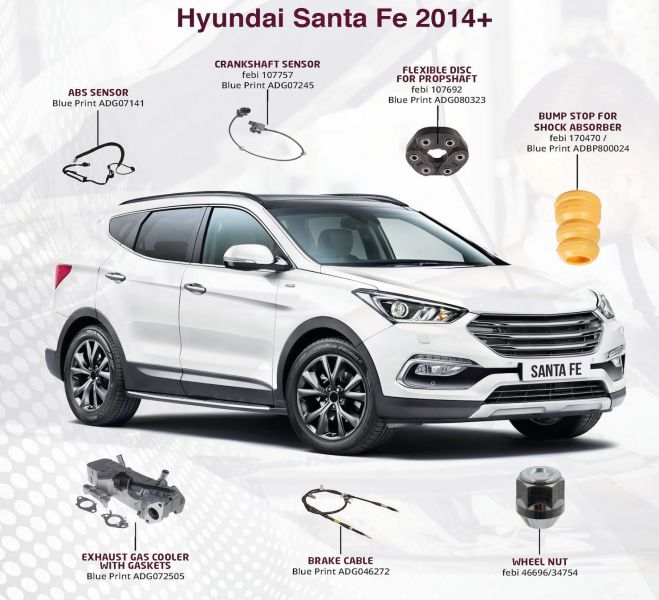 febi and Blue Print, have carried out detailed analysis of Santa Fe parts demand and identified several in-demand parts that garages will commonly request
Wednesday, July 01, 2020
The Santa Fe was the model that first brought Hyundai to the notice of many Irish motorists and the 2014 version has proved to be even more popular than its predecessor. Its SUV design and spacious interior has made it especially favoured as a family car, meaning it is also much sought after in the used car market.
The volume of Santa Fe models on the road means that they are vehicles that independent garages will frequently encounter. As the 2104> Santa Fe vehicle parc ages, maintenance demands have expanded from normal servicing to replacement of more specialist parts, where they have been subject to wear and tear.
With this in mind, the parts specialists at febi and Blue Print, have carried out detailed analysis of Santa Fe parts demand and identified several in-demand parts that garages will commonly request. These parts are all OE quality and are available at prices that can offer considerable savings over dealer sourced replacements.
The range includes both ABS and crankshaft sensors, as well as a replacement brake cable and a shock absorber bump stops. There is also an exhaust gas cooler set with gaskets to satisfy a need for a common repair.
These and many other febi and Blue parts for the Hyundai Santa Fe are available from motor factors nationwide.
Categories: