Open windows greatly reduce COVID car risk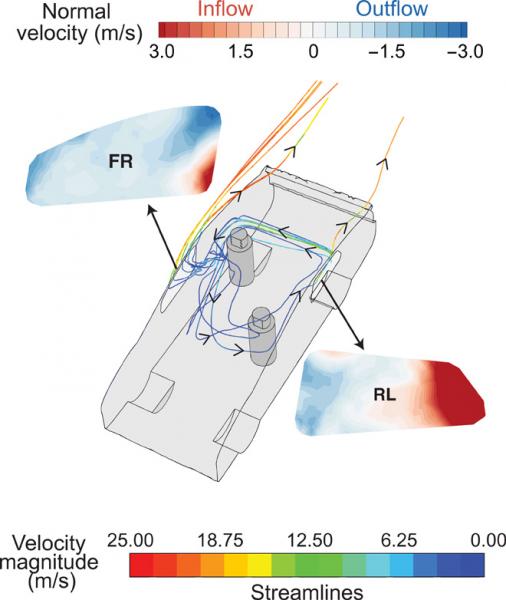 Picture: Science Advances
Monday, January 18, 2021
Reducing the risk of COVID-19 transmission is on everyone's mind at the moment and garages and bodyshop can face particular challenges when having to get vehicles from A to B. Although COVID-19 protocols means instances have been greatly reduced, it is sometimes inevitable that two employees, or a member of staff and a customer need to travel in the same vehicle.

A new study published by Science Advances has looked at the issue of Coronavirus transfer in the vehicle cabin and found, perhaps unsurprisingly, that open windows are the best solution. Using computer dynamics, scientist from the University of Massachusetts, Amherst and Brown University studied air flows based loosely on a Toyota Prius travelling at 50mph. Being an American study the driver was place in the front left with the passenger at maximum distance, back right.

The model found that the air flow outside the moving car creates a pressure gradient inside the car that causes air to circulate from back to front in the cabin. As you may expect the safest way to travel was with all four windows open, although the study recognised that this may be impractical. With windows closed around 10% transfer of particles from one person to another was calculated, but with windows open this dropped to just 0.2%.

The study found a diagonal air flow was key, so by having a back left and front right window open, transmission risk can be greatly reduced. Interestingly, findings also point to having windows half open greatly reducing the risk of transmission, but having only a slight gap offered little extra protection.

Of course the best solution is not to travel with other people outside of your bubble, but where this cannot be avoided, opening windows will keep everyone safer.
Categories: