Dayco
Leader in the design and production of power transmission systems for OE and aftermarket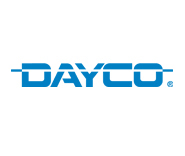 Dayco
Leader in the design and production of power transmission systems for OE and aftermarket
Dayco is a world leader in the design and production of power transmission systems for original equipment. Dayco works closely with the major worldwide car manufacturers, providing innovative solutions that anticipate the requirements of tomorrow's engines. The same quality that car makers have come to rely on is also available in the Dayco aftermarket range.

Dayco supplies the independent aftermarket with a complete, constantly updated range of components of original quality or equivalent, for power transmission systems. It backs this up with a full range of support and information services, provided by some of the very best professionals in their specialist fields.

The Dayco aftermarket range includes Timing Belts, Timing Belt Kits, Timing Belt and Water Pump Combination Kits, Poly-V belts, Elastic Poly-V belts, V-belts, Tensioners and Pulleys, Dampers, Alternator free wheels and specialist tools.
Last updated 16th Feb 2021