Repair & service solutions for today & beyond from Schaeffler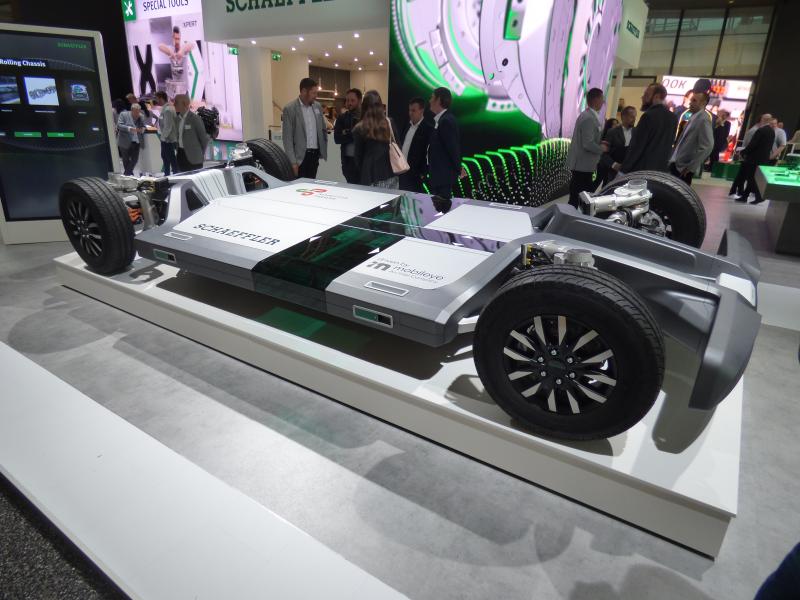 Schaeffler's "rolling chassis", scalable vehicle architecture featuring drive-by-wire technology and four electric wheel hub drives.
Friday, September 23, 2022
Schaeffler Automotive Aftermarket was once again at the heart of Automechanika 2022, with its huge stand taking pride of place in the Messe Frankfurt Forum.

The theme of the stand was "Your business is our focus" with future-oriented repair solutions for combustion engines, hybrid and electric vehicles all on show. The company presented a raft of new products on their stand from the LuK, INA and FAG product brands.

Jens Schüler, CEO of Schaeffler Automotive Aftermarket said, "Schaeffler is well prepared for the increasing repair needs of hybrid and electric vehicles and has always brought new technologies and expertise from its original equipment experience into the independent aftermarket. Staying true to this approach is particularly evident this year.

He added, "With our smart repair solutions and digital service offerings, we help garages meet the growing challenges of e-mobility and digitalization. At the same time, we ensure that they are still able to repair traditional combustion engines in a professional way, enabling garages to continue providing a complete service to their customers."

The "Market-Centric" element of the stand focused on repair solutions that garages require today and in the near future. Highlights included the LuK C0 disconnect clutch repair kit for hybrid vehicles, the second-generation INA Thermal Management Module for vehicles with automatic start/stop or hybrid drive, and the latest wheel bearing generations available as FAG WheelSets.

Schaeffler's emerging technology was also on display, including the 800-volt 3-in-1 E-axle, the latest TriFinity wheel bearings and the intelligent mechatronic rear-wheel steering system (iRWS). Sooner or later, all of these advanced technologies will become relevant to workshops – with Schaeffler ideally positioned to provide the independent aftermarket with relevant and appropriate repair solutions.

The "Customer-Oriented" Zone featured Schaeffler's REPXPERT service brand, with staff on hand to show how it can provide instant digital support for independent garages. Visitors could also try out the new Schaeffler OneCode interactive labelling system, where a QR code provides quick and easy access to product specific technical information, check the authenticity of the parts in the box and collect REPXPERT bonus points.

Future mobility also featured significantly, with Schaeffler's "rolling chassis" taking centre stage. This space-saving, scalable vehicle architecture is geared towards autonomous driving, featuring drive-by-wire technology, four electric high- or low-voltage wheel hub drives and single wheel steering.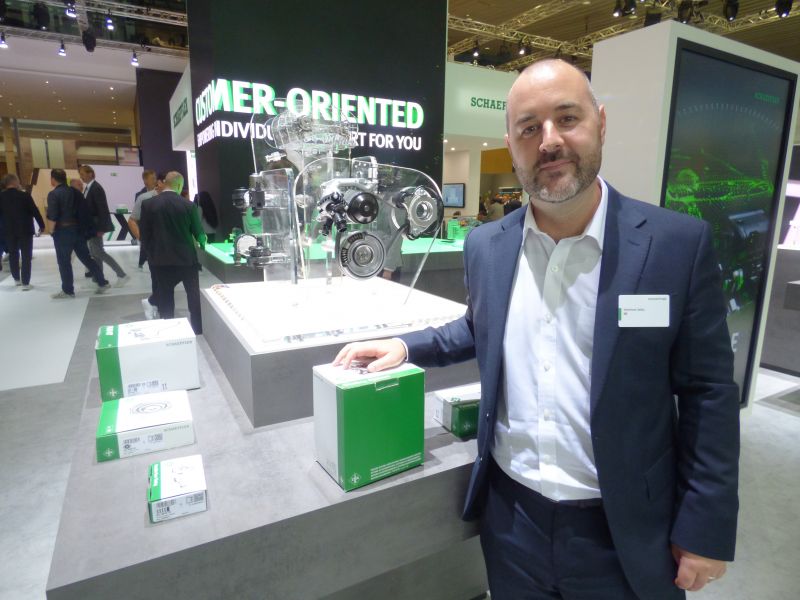 Matthew Selby, Sales & Marketing Director UK & Irl AAM, SCHAEFFLER Aftermarket UK
Categories: