OSRAM delivers an autumn lighting boost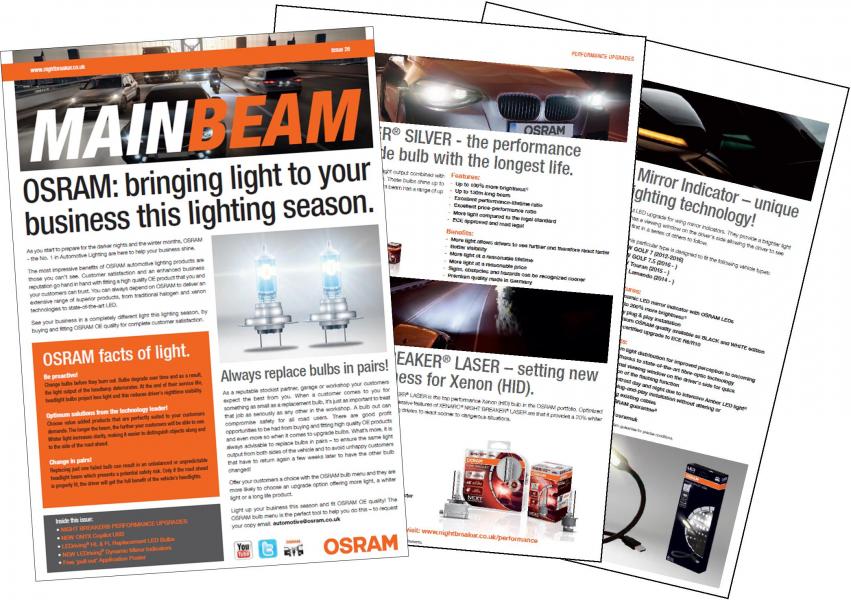 Tuesday, October 01, 2019
As we enter the peak season for sales of automotive lighting products, this month's Autobiz features a Mainbeam insert from automotive lighting specialist OSRAM. This useful publication details the latest lighting innovations featured in the OSRAM range and shows how garages can fully capitalise on new business opportunities during this autumn and winter lighting season.

OSRAM provides some useful advice to garages on timely replacement of bulbs and the fact that, especially headlamp bulbs should always be replaced in pairs. Mainbeam also provides details of possible headlamp bulb upgrades which can provide improved performance, better visibility or longer bulb life. OSRAM stresses that when these upgrade options are explained to customers, they are more than often happy to have these premium bulbs installed. This is something that not only boosts customer satisfaction, but also provides a significant revenue boost for the garage.

Upgrade options detailed in the latest Mainbeam include; NIGHT BREAKER LASER, the next generation brightest ever OSRAM halogen bulb, NIGHT BREAKER SILVER, a performance halogen upgrade bulb with extended service life and XENARC NIGHT BREAKER LASER, bulbs that set new standards in brightness for Xenon (HID), with up to 200% more brightness.

Also featured is a new generation of the LEDriving HL bulbs. These are available in ECE equivalent types: H4, H7, H11, HB4.

The latest Mainbeam also has details of the OSRAM Installer Programme, New LEDriving Dynamic Mirror Indicator lights for VW models, Point of sale ideas to further boost lighting sales and the latest OSRAM LEDriving, Working and Driving Lights.
Categories: