MEYLE offers versatile control arm for Range Rover models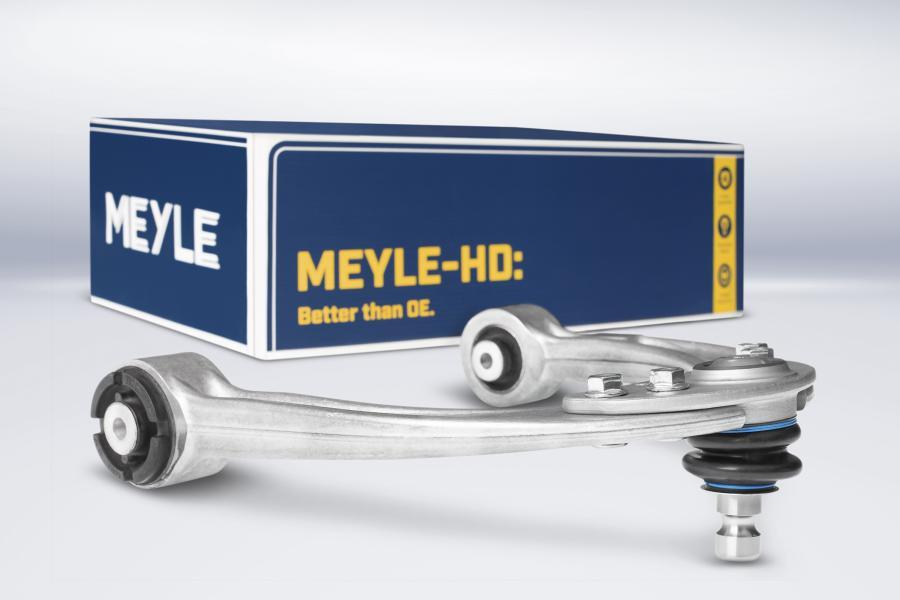 Monday, July 20, 2020
Hamburg based parts manufacturer MEYLE has developed an innovative solution for the repair of Land Rover control arms. The MEYLE-HD control arm kit means three different versions of the OE part can be replaced by one MEYLE-HD part for the Range Rover IV and Range Rover Sport.
The continuously variable ball joint with exact position display allows camber correction during axle alignment directly on the vehicle. The forged aluminium control arm also offers reduced weight, an individually exchangeable ball joint and technically refined MEYLE HD bushings with profile-optimised inner sleeve, which are also available separately.
A new MEYLE-HD control arm replaces three OE control arm versions for the Range Rover IV and Range Rover Sport and makes the usually complex repair work easier for workshops. Thanks to a continuously variable adjustable ball joint and exact position indication, the new MEYLE-HD control arm can be used for three different wheel camber settings. This not only saves workshops time on installation, but also simplifies parts identification and purchasing as instead of six references, only two control arms are required for the repair of the Range Rover IV and Range Rover Sport.
The ball joint and the reinforced bushings both come in advanced MEYLE-HD quality. They can be replaced individually and turns the MEYLE-HD control arm kit into another sustainable repair solution. The ball joint is additionally provided with a high-quality corrosion coating. With the innovative seal made of wear-resistant rubber including shielding ring, the ball joint is a reliable and durable spare part, saving time and money. MEYLE-HD parts also come with a 4-year guarantee.
The MEYLE-HD control arm kit for Land Rover can now be ordered from MEYLE stockists. Part numbers are 53-16 050 0027/HD (left) and 53-16 050 0028/HD (right).
Categories: