Ring offers new brighter Xenon HIDs for safer night time driving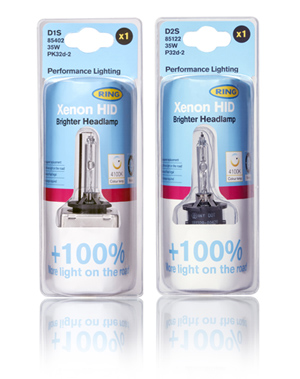 Thursday, March 28, 2019
Automotive lighting experts Ring have introduced a new range of 100% brighter xenon HID upgrade bulbs which offer drivers with xenon HID technology fitted on their vehicles a better, safer night time driving experience.

Ring says that compared to a standard xenon HID, the new bulbs put up to 100% more light on the road, to get more illumination exactly where the driver needs it. This improved visibility makes it easier to see hazards, reduces eye strain, and, when combined with the high colour temperature of xenon HIDs, gives excellent reflections from signs and road markings.

Carl Harrison, Xenon HID Bulb Product Manager at Ring, says, "Getting more light on the road in a precise beam pattern will improve visibility, making it easier to see hazards and reducing eye strain. 100% Brighter Xenon HIDs from Ring are engineered to give a very bright beam that focuses light in the best position on the road ahead. It's a simple upgrade for drivers that can make a big difference to their driving experience."

Carl stresses that vehicle lighting is a critical safety component, and investing in high quality, genuine replacement bulbs is essential to ensure that the beam pattern and lumen output meets the legal limits. Ring's xenon HIDs are E marked, use OEM technology, to provide exceptional light output, and are tested in Ring's state-of-the-art, ISO:9001 accredited beam laboratories.
Categories: