NGK
Major global manufacturer of OE and aftermarket spark plugs and ignition components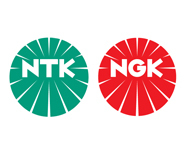 NGK

Major global manufacturer of OE and aftermarket spark plugs and ignition components
NGK is a leading manufacturer of spark plugs, spark plug covers, glow plugs, ignition coils and, under the NTK brand, Lambda sensors. The group was founded in Japan in 1936 and moved into the European market in the early 1960's, initially to supply motorcycle ignition products. It quickly expanded into automotive spark plugs and has over the years, become a well established market leader in both OE and aftermarket supply.

NGK works closely with vehicle makers, often consulting in the early stages of the engine design process. This means the company has great expertise in its specialist areas, with products designed to meet the most rigorous standards and deliver reliability and consistent performance under all conditions. NGK and NTK components can also offer genuine benefits in terms of engine performance, improved fuel economy and a significant contribution in the reduction of emissions.

In aftermarket terms, NGK is a brand leader and number one choice of professionals as a result of its quality, service and technical knowledge. The company also uses its extensive involvement in elite motor sport, including F1 and WRC, to develop new innovations that directly translate into the aftermarket range.
Last updated 4th Feb 2022