INA
OE and aftermarket supplier of bearing technology and other automotive components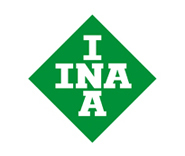 INA

OE and aftermarket supplier of bearing technology and other automotive components
Part of the Schaeffler Group of companies, INA was founded in 1946, quickly establishing a reputation as a true pioneer in the field of bearings. It was the first to develop the needle roller and cage assembly, with INA needle roller bearings replacing previously used plain bearings in the transmission of the VW Beetle in 1952. Today, almost every modern passenger car contains INA engine and transmission components.

The company works closely with vehicle manufacturers, and invests greatly in research and development. Recent developments have seen advances in areas such as variable cam timers and hydraulic bucket tappets, to ensure improved performance. There is also a strong focus on components which reduce fuel consumption, lower emissions and increased driving comfort in modern car engines. INA rolling bearings, engine components, and linear technology are all characterised by high levels of quality and reliability.

INA also markets an extensive range of its original components to the aftermarket.
Last updated 20th Dec 2021