Brembo Xtra Discs offers sport range safety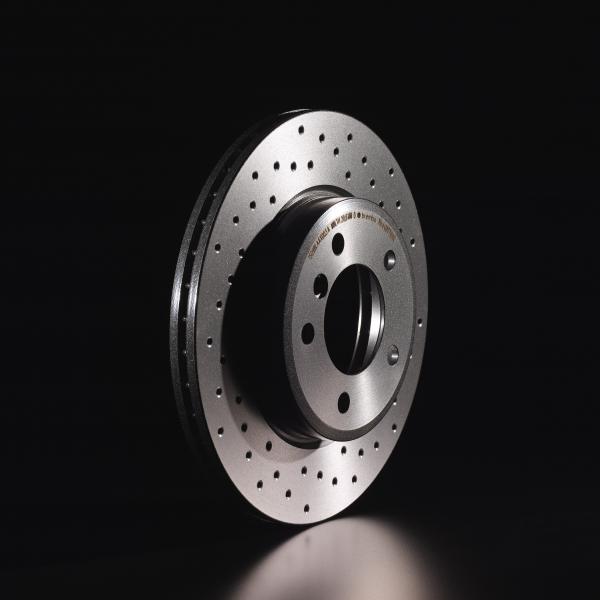 Monday, February 17, 2020
For driving enthusiasts that want a sporty performance from their brakes that also offers enhanced safety, Brembo has developed the Brembo Xtra sport range of brake discs for the aftermarket. These feature a unique Brembo design with a specific drilling, which combines an attractive aesthetic look, enhanced by the exclusive UV painting, with highly efficient performance in any braking conditions.

The Brembo Xtra range, developed by Brembo's R&D Department and based on the company's experience with the most prestigious car makers and in the world of racing competitions, offers a solution with holes in the braking area which offer a significant improvement to the performance of the system.

Brembo says that the design of the Xtra disc means quicker and more effective response from the braking system, with the surface of the holes producing a higher friction coefficient. The holes also help to cleaning and renew the brake pad, removing dangerous material deposits. The drilling pattern also allows the thin layer of water that may deposit on the braking surface in wet conditions to be interrupted, meaning the brakes respond more efficiently in poor conditions.

Xtra discs are also designed to offer maximum friction even at high temperatures. Normally, at high operating temperatures the combustion of the resins, used in the brake pad construction, generates gases which can cause a fading phenomenon, reducing the friction coefficient between brake pad and disc. The presence of holes allows the rapid expulsion of these gases, quickly restoring optimum braking performance. The presence of holes also improves the capability of the brake pad and disc to dissipate heat thanks to the greater air circulation, which also improves the performance of the entire braking system.

Brembo Xtra discs and Xtra pads are available from Brembo Expert stockists nationwide.
Categories: