The rent free and local gas solution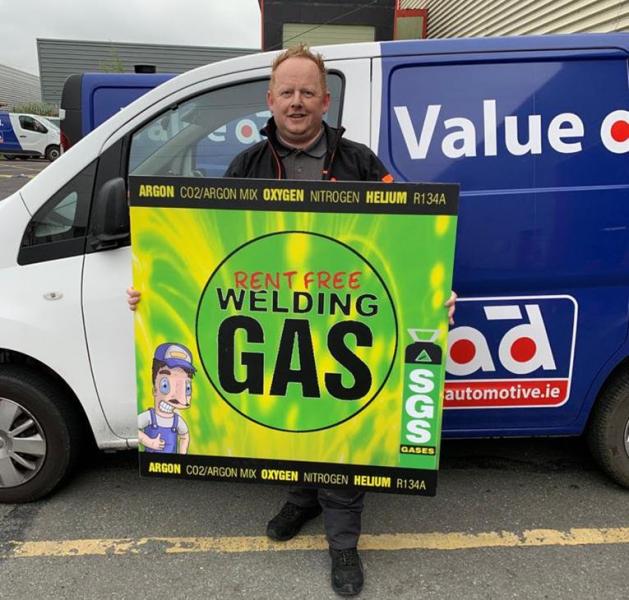 Friday, June 12, 2020
One impact of the Coronavirus crisis and the subsequent economic downturn is that most vehicles are likely to stay on the road for longer as new car sales fall. This means that as workshop begin to return to something closer to normality, the need to fix and weld vehicles is rising fast and with this comes an increased demand for industrial gases.

J&S Automotive in conjunction with SGS Gases, launched a new service designed to give garages and bodyshops fast, easy and economical access to all the specialist aftermarket gases they need, rent free, through motor factors across Ireland at the September 2019 Ploughing Championships. Ten months on the service is proving hugely popular with over 40 motor factor gas collection points now established nationwide.

Supplying gases through motor factors gives garages and bodyshops very convenient access to a full gas range which includes; Argon, CO2/Argon Mix, Oxygen, Nitrogen, Helium, as well as refrigerants such as R134A and R1234YF. These come in sizes from 5kg to 50kg bottles and accessories, such as regulators, adapters, trolleys and welding equipment are also available, as well as a new SGS Air-Con Leak Detection Kit. J&S in turn keeps large stocks of gases at its Munster, Leinster and Ulster depots, which means availability is always excellent.

Factor stocking means fast delivery to workshops with excellent availability and gas cylinders are supplied completely rent free. This means users only pay for the gas they use, no matter what the quantity.

Paddy Thomas of J&S Automotive comments, "When it comes to gases, many workshops now have a growing need and want a fast, efficient service at the right price. By making SGS gases available from 40 outlets nationwide we have been able to satisfy this need." He adds, "Garages and bodyshops have now got to know that wherever they see the distinctive "Wally the Welder" sign they can find a convenient solution to all their gas needs from one source."

With the cancellation of the Ploughing Championships this year, J&S and SGS are looking forward to a return to the event in 2021, when they hope to have a network of 50+ stockists.
Categories: