Making sense of sensors. Essential ADAS information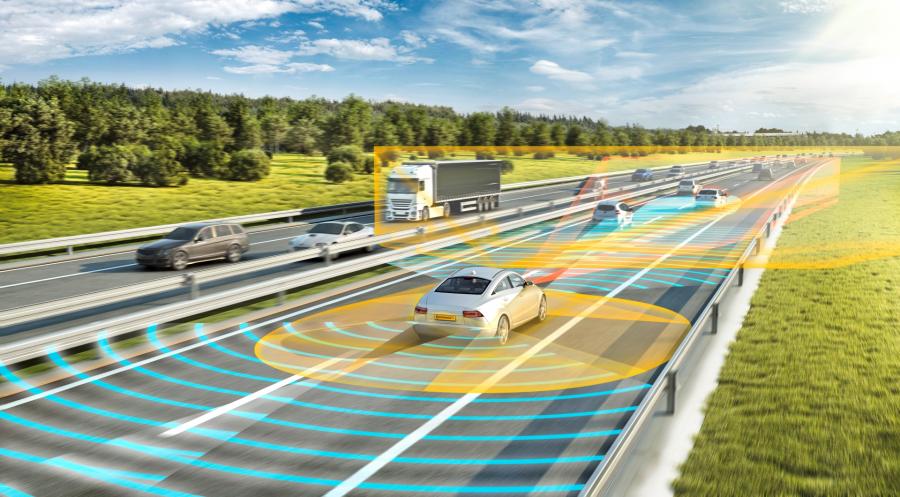 Picture courtesy of Continental Vision Zero campaign: Accelerating the drive toward no deaths on the world's roads.
Thursday, May 02, 2019
Andrew Hooker, Advanced Repair Projects Manager at Thatcham Research explains more about ADAS sensors and how the technology will impact on the bodyshop business.

ADAS sensors can essentially be split into three categories; cameras, radar, and lidar. These sensors may all provide information to more than one control unit and to more than one vehicle system.

The simplest of the three is LiDAR, or Light Detection and Ranging. These are short-ranged, laser light-emitting sensors, that send infra-red light pulses to detect objects, mainly for Autonomous Emergency Braking (AEB) systems. Because it is robust, lidar does not generally require calibration, although some models have a mandated diagnostic routine requirement.

These simple sensors should not be confused with the more sophisticated High-Resolution Flash lidar that we are now starting to see on the front of the Audi A8 and A7 models, for highly automated, but not autonomous driving. These are highly sensitive and can build up a digital simulation for the car to manage automated driving tasks and do require calibration, using an additional ADAS calibration target board.

Radar is similar, but more sophisticated than lidar. It uses radio wave lengths and these sensors are typically split into short-range (for AEB, pedestrian detection and parking) and long-range for Adaptive Cruise Control. As such, a short-range radar will have a wider field of view, with a range of 75-100 metres, and a long-range radar will have a narrower field of view, perhaps 8 - 9° at a range of 250 metres.

Radar sensors emit signals in that arc of view, or cone and ADAS development engineers optimise the position of the sensor and the software to enable the system to filter out unimportant reflected background signals, so it can efficiently respond to the potential hazard. More optimisation is required for blind spot or parking sensors behind a bumper cover, to manage the signals refracted or reflected by the inner surface of the bumper.

This means for example typical frontal radar, mounted on a bracket on the front panel, will require calibration if it is removed and refitted, or if it has been disturbed. Technicians should be aware that the vehicle is very unlikely to display a warning fault code if the radar is misaligned, so they need to apply their own common sense and decide if the sensor or mounting has been impacted.

It should also be noted that a message such as "ADAS system unavailable" does not automatically mean it is out of calibration but could be that the driver has opted to switch it off.

Because of refraction and reflection of radar signals from sensors mounted behind a bumper cover, either for the front or rear bumpers, technicians need to remain mindful of repairing the bumper directly in front of the sensor. Many vehicle manufacturers prohibit repair in these zones, and some place restrictions on paint build or use of plastic repair fillers, though most provide no guidance at all.

Many important ADAS systems use a windscreen mounted camera, which may be a stereo sensor unit, which compare and contrast two views. These cameras tend to clip back into their mounts easily, yet usually require diagnostic recalibration, with a tool, target board or test drive.

Some brands align the camera or radar sensors to the vehicle body alignment, but some align these sensors to the thrust angle, such as VW/Audi. In this case accurate alignment of the rear geometry is required so repairs in this area will mean system recalibration.

Some vehicles use 'fusion' sensor systems, combining information from radar and from cameras, so these need to be recalibrated together.

Technicians also need to check if a system is linked to a headlamp, for advanced lighting functions, so headlamp replacement may require a diagnostic procedure.

There can be other cameras around the vehicle, mounted in the door mirrors, in the front grille, or on the tailgate/bootlid. These are for systems such as Blind Spot Information or 360°/surround-view, and these may require calibrating and aligning if one or more of these are replaced or disturbed.

Once a technician has an understanding of the different sensors it is a case of deciding if an accident scenario has disturbed the sensor function, or if the repair specification may compromise performance. There also needs to be an awareness of the appropriate calibration procedure which may be, diagnostic, use a calibration board, or a printed target.

ADAS use will only increase and self-calibrating systems are unlikely to become commonplace. This means it is well worth learning how to maintain ADAS and related systems now, so that your bodyshop is ready for future challenges.
Categories: