Eure!Parts volume 8 highlights OE opportunities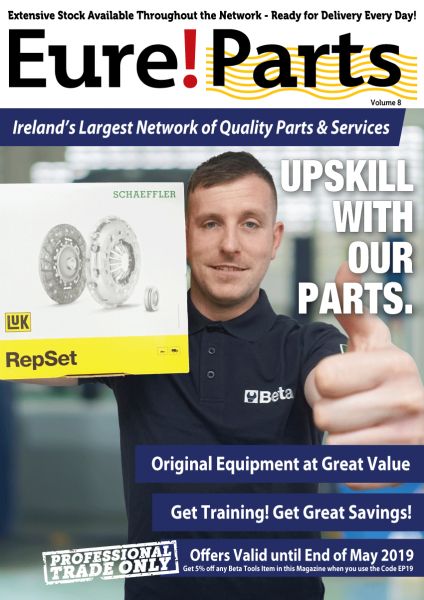 Monday, March 04, 2019
Volume 8 of the hugely popular Eure!Parts promotional catalogue is included with the March issue of Autobiz magazine and in this edition, there is an emphasis on aftermarket OE parts, to tie in with the fantastic training opportunity offered by Autoinform LIVE Ireland, which takes place in Cork on April 27th and 28th.

The latest Eure!Parts publication features some amazing deals on products from many OE brands that will also be providing product training at Autoinform LIVE. This means that garages that attend the training weekend will be able to put their practical new skills to work with products featured in the promotion that runs until May 31st.

Many progressive independent garages are now looking to differentiate themselves from their competition by offering customers a premium OE aftermarket option when it comes to parts fitted. Using such parts helps to guarantee the quality of repairs and servicing and provides complete peace of mind for both the garage and the motorists. Drivers of high spec imported vehicles especially favour the use of OE parts to maintain optimum vehicle performance and comfort, but may find dealership prices outside of their budget. This creates a great opportunity for garages who have the skills and knowledge to work on these cars and can also access great value genuine OE parts from original parts manufacturers through the network of trusted Eure!Parts partners.

The Eure!Parts 8 publication also contains details of how to book places at the Autoinform LIVE training weekend, where technicians will be able to learn new skills from OE supplier technical experts and garage owners can discover new business opportunities that can take their operation to the next level.
Categories: