Connected A/C service and diagnostics by Bosch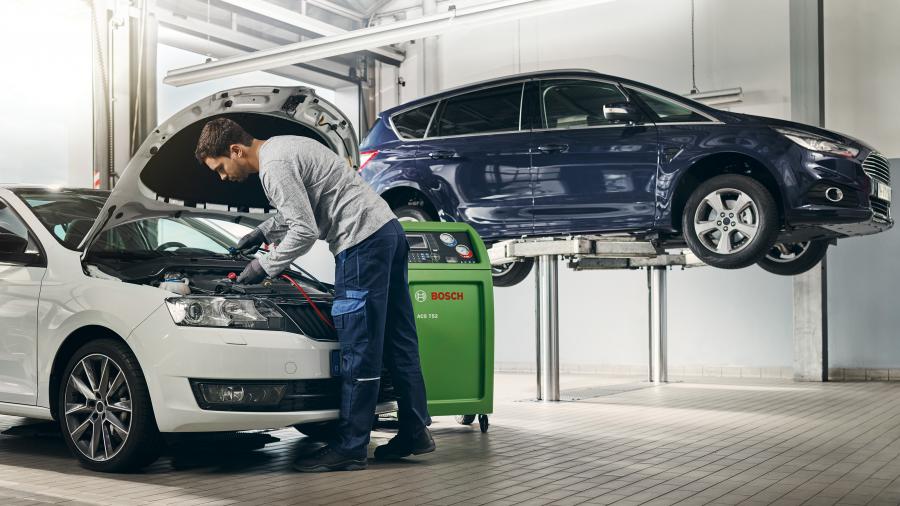 Tuesday, April 27, 2021
A/C servicing is growing rapidly for workshops at present, both in terms of demand and complexity. With most vehicles now equipped with climate control systems, modern air conditioning service is much more than just standard routines. Bosch can help garages tackle this issue using ESI[tronic] 2.0 Online and Bosch Connected Repair together with Bosch A/C service units.

Featuring accurate measurement technology and fully automatic service routines, Bosch A/C service units can efficiently service passenger car and commercial vehicle air conditioning systems. They meet the highest European standards and are also suitable electric and hybrid vehicles.

The Bosch range includes powerful, friendly A/C service units to meet all workshop requirements. They offer step-by-step instructions that guide the user through the service and other tasks such as A/C flushing or leakage detection. A/C flushing is usually required for the replacement of system components and to maintain warranty.

Bosch A/C service units also offer an exclusive "deep recovery system," with premium and standard models recovering up to 99% of the refrigerant even under difficult environmental conditions, with integrated forming-gas pressure test option allows accurate 'leak-proof' tests. The ACS 563 and ACS 553 entry-level units support workshops with daily service tasks such as refrigerant recovery, filling and recycling. They feature a recovery rate of up to 95%.

In addition, the top model ACS 863 automatically tests the purity of R1234yf refrigerant. Moreover, ACS 763, ACS 753 and ACS 863 also feature an integrated nitrogen and hydrogen pressure test.

For comprehensive servicing of automotive air conditioning systems, the ACS units can be combined with ESI[tronic] 2.0 Online and KTS-series diagnostic solutions. This takes standard A/C service to the next level. This connectivity can expand the workshops' range of services while simplifying procedures. For example, using Bosch Connected Repair, a vehicle driving up for its maintenance can be identified by its vehicle identification number and relevant data accessed.

Vehicles can be checked via Bosch KTS, the vehicle condition is analysed and possible faults are listed. The fault memory monitors the components connected to the air conditioning system via control units. In this manner, all of the vehicle's fault memories are checked. The air conditioning system pressures can also be checked along with the functionality of the control panel. The ECU diagnosis includes different functional tests concerning the air conditioning system. For this purpose, components such as the compressor, the fan or even the air distributor can be operated and checked via the KTS device. The nominal values and filling quantity are specified at the database of the A/C service unit and at ESI[tronic] 2.0 Online.

In addition, mechanics can also use experience-based repair (EBR). It comprises the most common A/C faults compiled by vehicle types and for additional information access technical documents such as circuit diagrams, test values, installation positions, information on spare parts and additional support using ESI[tronic] 2.0 Online.

Using a WLAN network and Connected Repair, workshops are able to connect their workshop equipment to one another. Thanks to this data workflow, they can increase both speed and efficiency of their work and save the results.

Categories: