UFI
An OE and aftermarket world leader in filtration technology and thermal management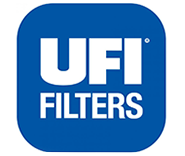 UFI

An OE and aftermarket world leader in filtration technology and thermal management
Founded in 1971, UFI Filters is a global leader in filtration technology and thermal management. It serves a wide range of sectors, from automotive, aerospace and marine to specialised industrial and customised hydraulic applications. The company is renowned for new technology innovation in the filtration field and its products are found in all kinds of vehicles, from F1 teams, including Ferrari, to the European ExoMars spacecraft.

UFI aftermarket supplies a full range of air, oil, fuel, cabin, hydraulic and coolant filters as well as thermal management systems to the automotive sector, with 96% European car parc coverage. The very same products are also supplied as original equipment to 95% of the world's vehicle manufacturers covering cars, motorcycles, commercial, heavy duty and agricultural vehicles.

Because of its extensive links to vehicle manufacturers and product and system development expertise, the UFI aftermarket range features many patented products that are exclusive to the company. This can create some significant aftermarket business opportunities, whilst ensuring that workshops have access to the very latest in filtration technology.
Last updated 22nd Mar 2021