Schaeffler to distribute free workshop essentials packs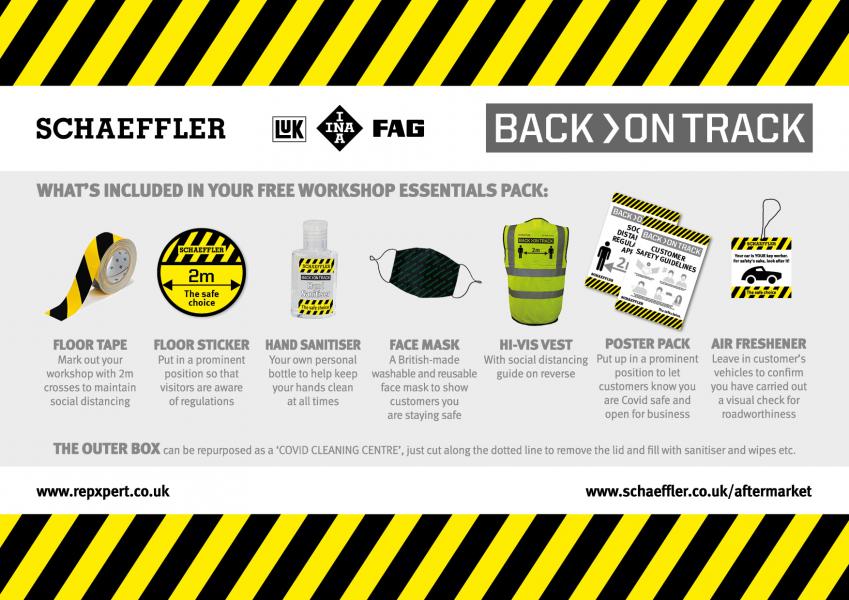 Thursday, May 21, 2020
Schaeffler, the company behind the LUK, FAG and INA original equipment component brands, is to help garages return to work safely with the distribution of its "Back on track" packs.

Schaeffler has created an essentials pack that will help workshops get up and running again, while making vehicle owners feel safe when they visit. It includes a floor sticker and tape to mark out the reception and workshop area into two metre blocks to help maintain current social distancing rules. There is some personal PPE; a washable mask, hand sanitiser and hi-vis vest, along with some prominent A2 posters and some mirror hanging air fresheners to remind both staff and customers about the guidelines.

Schaeffler is also making suggestions for garages to rebuild business, such as free visual safety checks with any repair and using all promotional channels to communicate with customers. Health-related added value servicing such as cabin filter replacement and disinfecting air-conditioning systems may be particular apt to promote, while safety checks for a small charge, including fluid top-ups, a battery condition check, plus a visual check of all drive belts and the steering and suspension components may also prove popular.

Schaeffler says it is vital that all garage staff are invested in following the social distancing guidelines, including:

Minimise contact with customers and suppliers

Use new disposable gloves, seat covers and mats for every job

Wipe down all contact points

Turn off all climate control systems while working

Respect high risk customers by setting up a no-contact drop-off and collection system.

All these actions will help customers see the care and attention workshops are taking in providing the best safe and professional service possible.

The Schaeffler REPXPERT team will also be getting back to work in June, distributing the 'BACK ON TRACK' workshop essentials and poster packs to selected garages, whilst abiding by all social distancing rules of course.

REPXPERT members will receive an email with a pack request link, or they can visit the news page at www.repxpert.co.uk and follow the link from there.


Categories: