MANNOL poster can open up additive opportunities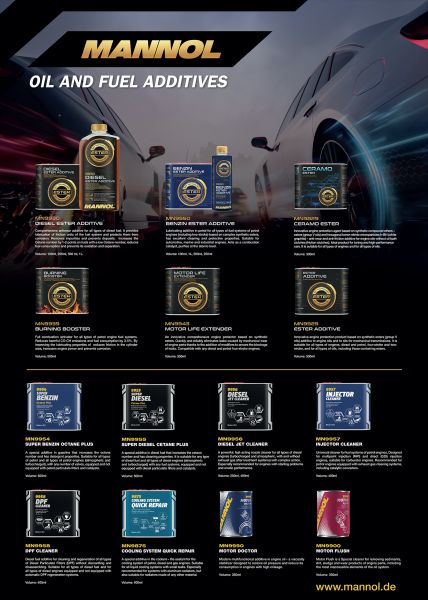 Thursday, October 14, 2021
Featured in this latest addition of Autobiz Magazine is a colourful and informative MANNOL poster which details some of the advanced additive products featured in the MANNOL range.

Additives now represent a huge area of business potential for motor factors and garages as more and more motorists become aware of the benefits of regular additive use, use as a preventative maintenance precaution, as a cleaning product for various internal vehicle systems or as repair products. Indeed in the past decade additives have gone from somewhat marginal products, with limited appeal, into the mainstream where they are now seen as an area of very significant business potential.

This is because additive technology has moved on at pace and it can now offer simple solutions which can often either prevent engine, exhaust and fuel system issues on a vehicle, or in some cases actually fix issues without the need for time consuming mechanical disassembly. This can offer motorists considerable savings on repairs and also prolong the life of a vehicle. This last point is important as with Ireland's car parc aging as people hang on to car because of rising used car prices, additives can play a vital role in keeping these older vehicles in good operating condition.

German lubricant and car care specialist MANNOL is at the forefront of additive technology development, consistently introducing new additive innovations which help to clean, protect and boost vehicle system performance. This is something that is especially important at present as fuel prices rise steeply meaning that anything that can reduce fuel consumption is very welcome, something that several MANNOL additives can do.

The poster explains in a clear and simple way what a selection of additives from the MANNOL range are used for and what benefits they bring. It includes information on the very latest MANNOL Ester additive products which bring advanced aerospace technology to the automotive sector.

Jevgenij Lyzko, MANNOL MD says, "Additives really are an area of huge potential for any aftermarket business and MANNOL can offer a complete, attractively packaged and great value additive range that really gets results. These products are very easy to use and can offer considerable benefits in terms of vehicle performance, reduced fuel and oil consumption, reduced emissions and extending the engine service life."

MANNOL additives are available from Mannol stockists nationwide.

Categories: