Bosch Service Training Centre stars on breakfast TV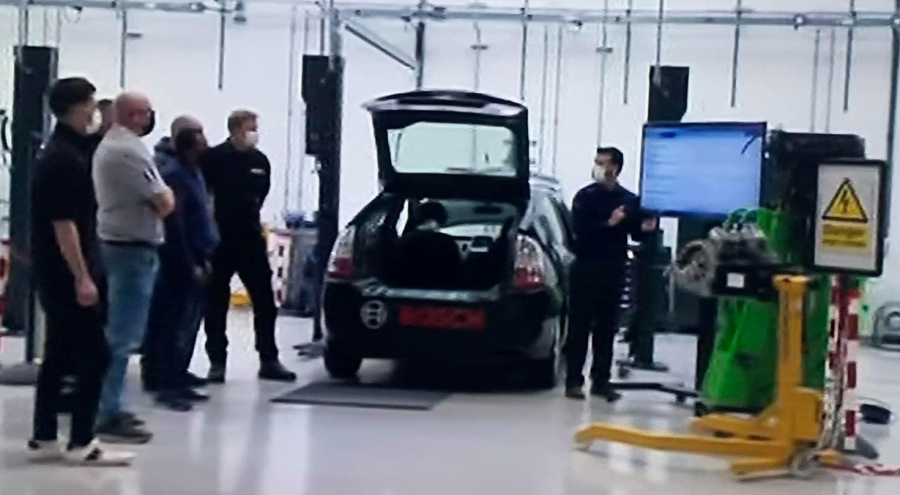 Friday, November 19, 2021
The Bosch Service Training Centre in the UK was the setting for a recent feature on the BBC Breakfast morning programme. The piece highlighted the very effective work that Bosch is doing in training the next generation of technicians qualified to work on electric vehicles, but also struck a concerning note about a huge potential shortfall the aftermarket is likely to face in numbers of electric vehicle technicians in the future.

BBC reporter, Tim Muffett spoke to technicians being trained on the latest electric and hybrid vehicles as well as Bosch course trainer course Alex Gibson. Bosch provides a range of training courses that allow technicians to develop their skills and knowledge of electrical vehicle repairs and service and how to work on these cars in complete safety. However, it also recognises that technicians still require training on internal combustion engine vehicles, which will remain a major feature on the roads well in to the 2030's and beyond.

However, despite the significant efforts of Bosch and other training providers, the IMI in the UK has predicted that the industry could be short of some 36,000 EV technicians by 2030. The trade body estimates that by the time sales of new internal combustion engine cars are phased out in the UK at the end of the decade, the industry will need some 90,000 trained EV technicians, but on current projections only around 54,000 will be in place.

The IMI estimates that currently only 6% of technicians have the skills to work on electrified vehicles. It says that the automotive sector is working hard to retrain and upskill, but because of the accelerated adoption of EV, the professional body is predicting that there will be a shortfall of 35,700 technicians by 2030, with 2026 marking the point at which the skills gap will materialise.

Steve Nash, CEO of the Institute of the Motor Industry said, "There needs to be a mind-shift in how to fix the widening skills gap. Significant investment is being ploughed into infrastructure, but the government still seems to be ignoring the fact that without a skilled workforce, it will fail in its decarbonisation ambitions." He added, "The current gaping chasm in EV skills not only presents a safety threat for those who may risk working on high voltage vehicle systems without appropriate training and qualifications, it also means the premium on skills could add to costs for motorists, creating another, unnecessary deterrent to the switch to EV."

With similar decarbonisation goals, Ireland is also highly likely to face the same issues when it comes to EV technicians and without an industry focus on the issue a similar, or even larger skills gap could develop here.

Categories: