Strongline
Long established wholesale distributors of leading brand automotive components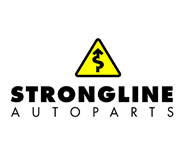 Strongline

Long established wholesale distributors of leading brand automotive components
Strongline Autoparts is one of Ireland's leading national wholesale automotive parts distributors, supplying motor factors, government bodies and engine re-manufacturers with a range of leading brand products. The Strongline organisation has a history dating back to 1958. The present company was founded in 1976, and it moved to its present purpose-built Dublin distribution centre in 1994.

Throughout its history, Strongline has offered a comprehensive and high-quality brand portfolio of automotive components and accessories. Today this includes products from leading original equipment manufacturers, such as Coopers-Fiaam, Gates, Ring, Airtex and Oldham. Strongline also launched the respected MEYLE brand in Ireland in 2012.

Coupled with its strong brand portfolio, Strongline and its many customers also benefit from a team of dedicated management and staff, continual investment in technology, a reliable and efficient logistics and distribution network, and a commitment to excellent customer service.

 
Last updated 5th Jan 2022