Nissens
A major supplier of thermal management, cooling and air conditioning products and expertise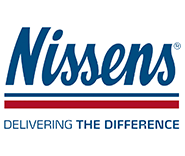 Nissens

A major supplier of thermal management, cooling and air conditioning products and expertise
Nissens is a global specialist in the field of cooling and air conditioning products and develops systems and components for the renewable energy and industrial segments, as well as the international automotive aftermarket.

Over the years, Nissens has invested very significant resources in research and development of engine cooling and climate system components for the automotive market. More than 95 years of thermal know-how and manufacturing experience mean that it can meet the needs of this fast growing sector with a comprehensive range of high-quality spare parts, while at the same time, being a market educator for technical insight into the systems field.

Nissens offers a comprehensive thermal systems and air conditioning product portfolio with up to 97% car parc coverage, including fast moving and more rare parts for European, Asian and American vehicle brands.

The company particularly focuses on being 'First Fit' and 'First to Market' with new components, ensuring it's aftermarket customers are always fully up to date and in line with the latest market trends.
Last updated 14th Feb 2019