Mannol Ester Additive brings aerospace technology to the aftermarket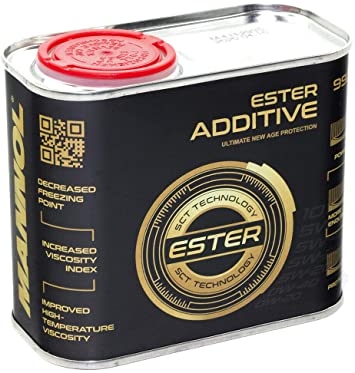 Thursday, July 01, 2021
Advanced Ester technology has long been seen as a highly effective way to maximise the efficiency and performance of an engine and as such is used extensively in the aerospace world. However, until more recently, cost factors limited its applications in the automotive aftermarket. That has now changed as development engineers at oil and additive specialist Mannol have found a way to harness the unique benefits that ester technology can deliver affordably in its lubricants and additives.

Mannol Ester Additive (9929) is an innovative oil additive engine protection product, based on synthetic esters, suitable for all types of engines and oil. The ester molecules in the additive are magnetised to metal surfaces, due to their pronounced polarity and create a dense and very strong oil film. The effect is to increase load capacity, reduce wear, thus extending the life of the engine and/or transmission components and to save fuel. The additive also has excellent anticorrosive and antioxidant properties.

Regular use of Mannol Ester Additive (9929) will extend oil life, improves cold start performance, reduces engine wear and penetrate to restore worn oil seals. Importantly, it also improves cleaning and dispersing properties, preventing deposits of lacquers, resins and sludge. These can seriously decrease engine performance and can result in long term reliability issues.

The Ester Additive also reduces evaporation, which decreases its consumption for carbon monoxide and extends the service life of the oil. The formulation also improves the thermal-oxidative stability, which increases its resistance to aging and degradation, which can also help to increase the oil change intervals.

The product is suitable for all types of engines, diesel and petrol, four-stroke and two-stroke, and for all types of oils-synthetic, semi-synthetic, mineral, including those containing esters.

For optimum results the product is recommended for regular use and should be added to oil in a ratio of 500 ml per 5 L. It is available from Mannol stockist nationwide.

Categories: