Continental adds new Thermal Management products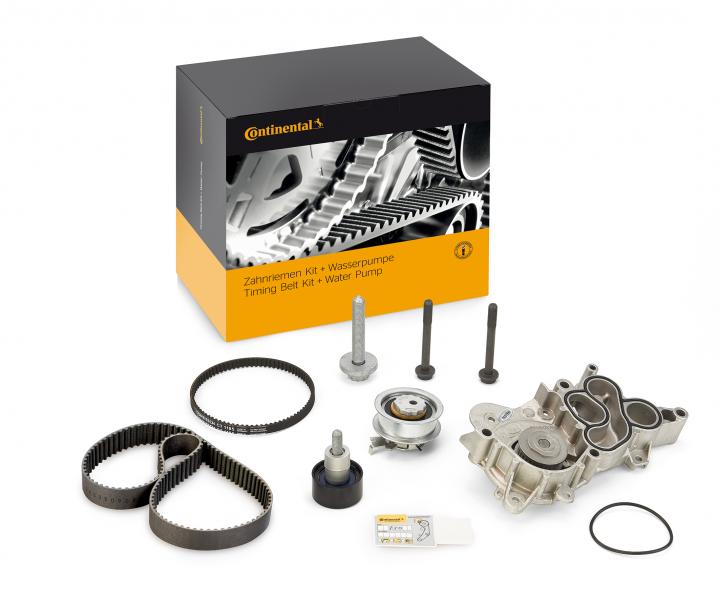 Wednesday, October 17, 2018
Continental is expanding its aftermarket product portfolio to include components for better temperature regulation in modern engines. The company is releasing two new kits, while at the same time adding 23 new types to its range of standalone water pumps. These are particularly intended for use in the ancillary drives of modern vehicles, in which the water pump is driven via the multi V-belt.

Water pumps are now responsible for broader temperature regulation functions in the engine and have to function at extremes. Relatively high coolant temperatures are required at low loads to ensure the engine efficiency is as high as possible, while the lowest possible coolant temperature has to be achieved in continuous operation when the engine is under a high load so that the ever more stringent emissions, efficiency and lifetime specifications can be met. This is only possible by means of components that perform control functions in addition to transporting water. These include water pumps with electric actuators.

The complexity of these products means they are increasingly patent-protected, often meaning limited aftermarket availability. Continental Product manager Adrian Rothschild comments, "We're resolving this dilemma by means of our thermal management product offensive. At long last, workshops can access premium-quality aftermarket parts that conform to, or even exceed, the manufacturers' specifications for these components."

In modern engines the water pump driven by the ancillary drive needs to be replaced whenever the multi V-belt is changed because of the high labour input involved in the fitting job. The new multi V-belt kit plus water pump from Continental means that mechanics have everything they need for that operation immediately to hand.

The PRO kits plus water pump are also new to range. Apart from the water pump, this contains all the power transmission belts for engines which require one timing belt for the timing gear and another belt, for example to drive the balancer shaft. In total, more than 30 different PRO kit variants are already available for various vehicle models in Europe. The CT1167WP1 PRO and CT1167WP2 PRO kits are designed for the Volkswagen Group's EA211 engine family, which makes Continental the only manufacturer to offer an all-in-one solution for these engines.

ContiTech's five-year manufacturer's guarantee is applicable to all new items.
Categories: