Cork pair represent Ireland in Audi quattro Cup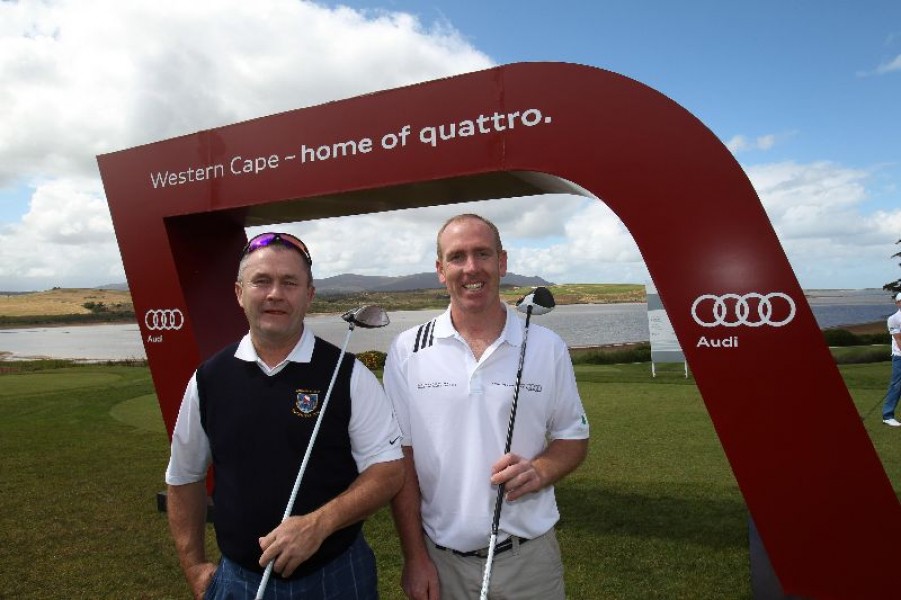 Brian McCarthy and Bill McGarry finish 9th overall in prestigious amateur golf tournament
Tuesday, December 18, 2012
Audi Cork's pairing of Brian McCarthy and Bill McGarry represented Ireland in the Audi quattro Cup World Final at the world famous Arabella Golf Club, Western Cape Province, South Africa.

The duo finished in 9th position overall with a final score of 58, in what has become one of the most prestigious amateur golf tournaments in the world. The competition ran between the 23rd and 27th of November and was won by Team Australia with an overall tally of 74.

McCarthy and McGarry booked their place in South Africa by holding off stiff competition from 23 other teams in the Irish final which took part in Killarney Golf Club on Wednesday, 30th August. This year saw nearly 700 players compete in eight regional heats, half of whom were Audi customers.

The Audi quattro Cup is now over 20 years old and has seen in excess of one million Audi customers participate all over the world in the last two decades.

Almost 90,000 golfers competed in 760 tournaments in 52 countries all over the globe throughout this year. The competition has come a long way since German Audi dealers organised an event for 6,000 golfers playing back in 1991.

The Audi quattro Cup is played over 18 holes and according to the Greensomes Stableford format. Four players tee off together, with two players forming a team. The pairings select the best drive and then play alternate shots from there.

Andrew Doyle, managing director of Audi Ireland said: "I would like to congratulate both Brian and Bill on behalf of everybody in Audi Ireland on such a fantastic effort in the Audi quattro Cup World Final. Both players have shown how competent Irish golfers are on an international stage.

"The Audi quattro Cup has grown exponentially since 1991 to become one of the biggest participation amateur golf tournaments in the world. I am delighted to be able to reward our loyal Audi customers and it's a testament to them that the competition grows from strength to strength each year. This year alone, close to 700 golfers competed in one of the most prestigious amateur events on the golfing calendar."

Categories: