Mannol provides the complete coolant solution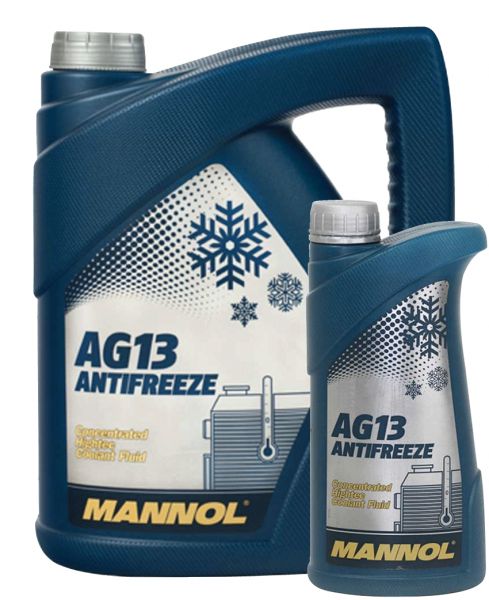 Mannol offers a complete selection of coolant product specifications, ranging from G11 to G13++
Wednesday, October 30, 2019
The Mannol brand is now very well established as one of the leading suppliers of oils and lubricants in the Irish aftermarket. The German based manufacturer also supplies a huge range of other products and essential vehicle operating and service fluids, including comprehensive coverage when it comes to vehicle coolant and anti-freeze.
Distributed in Ireland by J&S Automotive, and available through a comprehensive network of local trusted parts suppliers, the Mannol coolant range offers a combination of product performance and excellent value that has increasingly made it the preferred choice of independent garages all over Ireland.
Alan Gaynor of J&S comments, "With our Mannol range, we can offer garages a one-stop-shop for all their coolant needs, with a complete range of specifications and pack sizes available. The products, which have been developed for much harsher European climates, offer exceptional performance and really deliver in terms of outstanding value for money."
The coolant market of today has moved on significantly from the days when a single universal product could be used in all vehicles. It is now vitally important that the recommended coolant specification for a particular make and model is selected, in order to maintain the cooling system to its optimal operating capacity. To cater for all needs, the Mannol range offers a complete selection of product specifications, ranging from G11 to G13++. This includes ready to use fluids and concentrates, including the very latest silicated OAT lobrid antifreeze specs.
Mannol coolants offer the highest levels of protection on the Irish market. Developed for use in Germany, Scandinavia and colder European climates, the coolants can protect down to -40°C. Such a level of protect is unlikely to be required even in Ireland's coldest winters, however, because these coolants are so effective in low temperatures, they can be diluted up to 50% and still provide -38°C protection. This makes them highly economical, without any compromise on quality.
The coolants also offer excellent corrosion protection and prevent the build-up of deposits and foam. All manufacturer specs are catered for, including blue, pink and green colours. There is also a specialist yellow coolant which has been developed to meet the needs of electric and PHEV vehicles, including the latest generation of Lexus electric and hybrid models.
A complete range of pack sizes is available including 1, 5, and 20 litres as well as bulk barrels. Products can be ordered from local trusted parts suppliers on a same day delivery basis.
Alan comments, "Developing vehicle technology means that the correct selection of coolant specification is now vital when servicing a vehicle from winter. The Mannol range can provide everything a garage needs when it comes to coolant and deliver outstanding value and complete protection peace of mind."
Another operating fluid that has seen a very significant demand increase over recent years is AdBlue. J&S can also cater for garage's AdBlue needs through the nationwide network of trusted parts suppliers. This high quality product is used to optimise engine performance and reduces the emission of harmful particles in cars and trucks with Selective Catalytic Reduction technology. It is specified to DIN 70070 and is suitable for the very latest Euro 6 spec vehicles.
Mannol AdBlue is available in a full range of pack sizes from 1 litre up to bulk sizes. The popular 10 and 20 litre pack sizes also now come with the addition of a practical pouring spout, something that was introduced as a direct reaction to feedback from J&S customers.
With continued uncertainty regarding the UK's exit from the European Union and what effect this may have on the supply of certain products, Alan is also keen to point out that J&S and Mannol are already fully prepared to maintain supply whatever the outcome. J&S holds extensive stocks of the complete Mannol range at its distribution centres in Dublin and Cork and supply of Mannol product comes direct from OE Approved manufacturing facilities and refineries in Germany. This means that a guaranteed supply of Mannol product can be fully maintained, as products will not be subject to the potential delivery disruption and delay that is likely to impact on UK sourced goods.
Mannol AdBlue is available from 1 litre up to bulk sizes
Categories: