febi offers economical solutions to potential Tiguan issues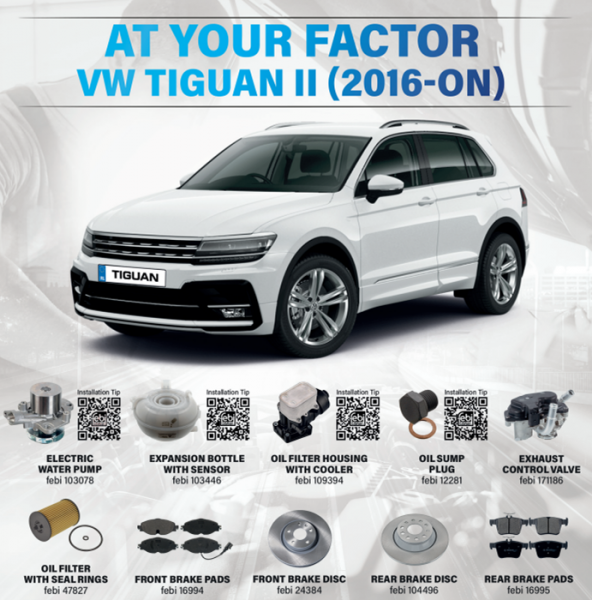 Tuesday, September 20, 2022
The second generation VW Tiguan was introduced to Irish roads in 2016 and has become a very popular SUV choice for buyers offering space and practicality. Many of the Tiguans registered are now out of warranty meaning they are a common sight in independent garages.

One issue that parts specialist febi has highlighted on this model concerns the cooling system. The engine overheating, coolant temperature gauge reading over 110° C and poor interior heater performance, as well as cooling system fault codes can be an issue.

This is due to the water pump which has an ECU controlled collar, which interrupts the coolant flow to make the engine more thermally efficient. However, the control collar can become seized, or the plastic impeller can break up or come away from the shaft.

Replacing the defective water pump with febi 103078, eliminates the potential failure caused by the control collar.

febi has also identified some other issues which can occur on the Tiguan and offers replacement parts to overcome these issues, which may sometimes be perceived as only available from the dealers. These include; expansion bottle with sensor, oil filter housing with cooler, oil sump plug and exhaust control valve.

febi also offers many standard replacement items for the VW model, all in OE quality at competitive prices. These include; oil filter with seal rings, front and rear pads and front and rear brake discs.

All of these items are available from febi stockists nationwide.

Categories: