Blue Print offers brake trouble shooting advice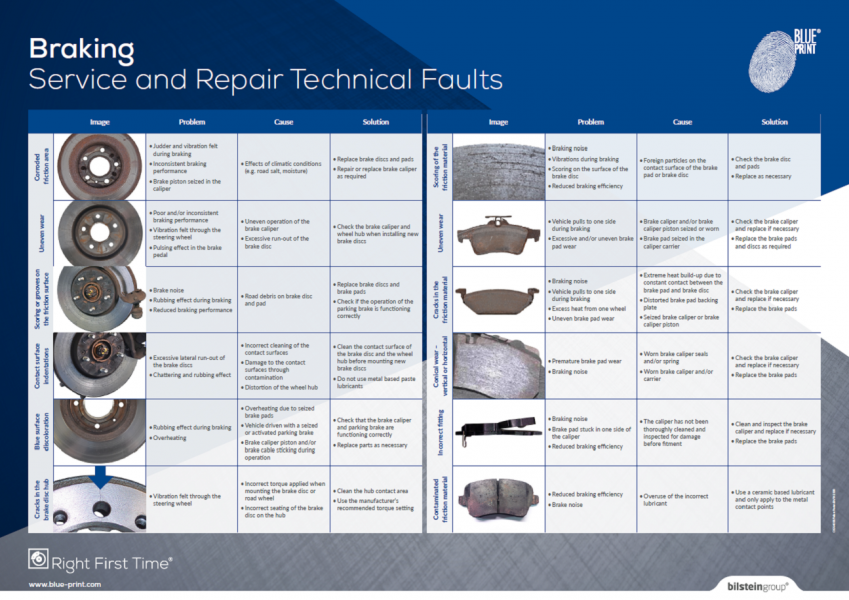 Thursday, November 18, 2021
Parts specialist Blue Print continues to produce useful guides and technical information as part of its library of technical material. The latest information, which has also been uploaded to TechTips.ie website, which now has in excess of 4500 technical tips from various parts manufacturers, concerns noise, vibration and harshness (NVH) in braking as well as a practical visual guide to braking service and repair technical faults.

The phenomena of noise, vibration and harshness can have a major impact on driving comfort and pleasure and often stems from vibration generated by friction between brake pads and discs. These are transmitted to the brake calipers, as a result, the entire brake system resonates to produce unpleasant noise.

The Blue Print article highlights how its parts can reduce this by adhering to OE quality, when it comes to materials, shape and torsion of the components. It also shows how NVH is minimised by features such as chamfering and/or the addition of slots to 'tune' the pad shims, as well as anti-rattle clips or springs that minimise play between the pads and caliper to further dampen vibrations during the initial engagement of the pad.

The guide also goes through best practice fitting procedure. It can be accessed on TechTips.ie by clicking here.

The second document is a useful visual guide to service and repair technical faults in braking, showing Illustrations of common faults, explaining the problems and causes and the solution. Faults covered include; uneven wear patterns, corrosion and scoring of brake discs, uneven wear, cracks and scoring of friction material and pad fitting issues.

The guide can be accessed on TechTips.ie by clicking here.
Categories: