Serfac expands hygiene and PPE range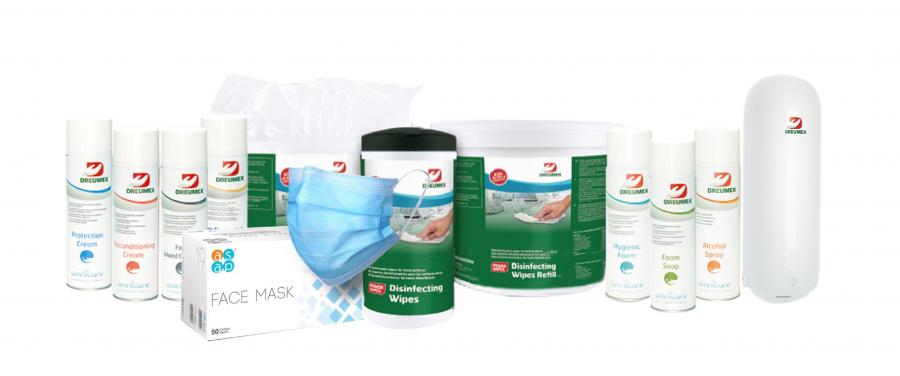 Tuesday, July 28, 2020
Serfac has expanded its range of COVID-19 hygiene and PPE products in response to increasing customer demand.
New cleaning and disinfecting products from DREUMEX have been added to help Irish businesses comply with the latest workplace safety guidelines. These include high-quality products that protect, clean, disinfect and care for hands.
Serfac stocks a comprehensive selection of DREUMEX products in a range of dispensing options, including wall-mounted, pumps, tubs and wipes and a new to range Alcohol Spray, for disinfecting hands when high effectiveness and good skin tolerance are required. This spray is 99.99% effective against bacterial, yeasticidal, fungicidal and virucidal microbes, reducing the risk of cross-contamination. It has been developed for frequent use and is dermatologically tested to be non-irritating and not dry out skin.
DREUMEX Alcohol Spray is compatible with the DREUMEX Omnicare dispensing system. This offers y Bag-on-Valve touch-free technology making it cost-effective, sustainable and convenient.
Also in-demand are DREUMEX Disinfecting Wipes which are effective against Coronavirus and many other dangerous microbes. The wipes are ideal for hygienically cleaning vehicles and work areas and come in a variety of pack sizes. Serfac is also stocking an attractive freestanding stainless steel dispenser which is ideally suited to car showrooms and public areas.
Also available from Serfac are new UFI Filters FFP2 Defender Masks. These highly protective masks offer four layers of protection and feature: Filtration efficiency of ≥ 98% @ 0.6μm, 95l/min, Inhalation Resistance ≤ 2.4mbar @ 95l/min and Exhalation Resistance ≤ 3.0mbar @ 160l/min. UFI has applied its twenty years of experience in the study and development of "meltblown" filter media to the production of a new range of personal protective equipment. The masks have achieved a 'Class A' classification by the Polytechnic University of Milan, for three fundamental characteristics: bacterial filtration efficiency (> 99%), particulate filtration efficiency and breathability.
Serfac is also stocking regular disposable Face Masks by ASAP. Featuring cushioned ear loops and easier breathing features, these 100% latex free masks are offered in boxes of 50 and have high particle and bacteria filtration efficiency. Also available is a range of personal protective gloves.
Special summer offers are now available across the entire Serfac hygiene range. Contact the company for more details on 01 459 8700 or sales@serfac.ie. Alternatively, visit www.serfac.ie or contact a Serfac area manager.
Categories: