At your Factor Ford Focus 2014-18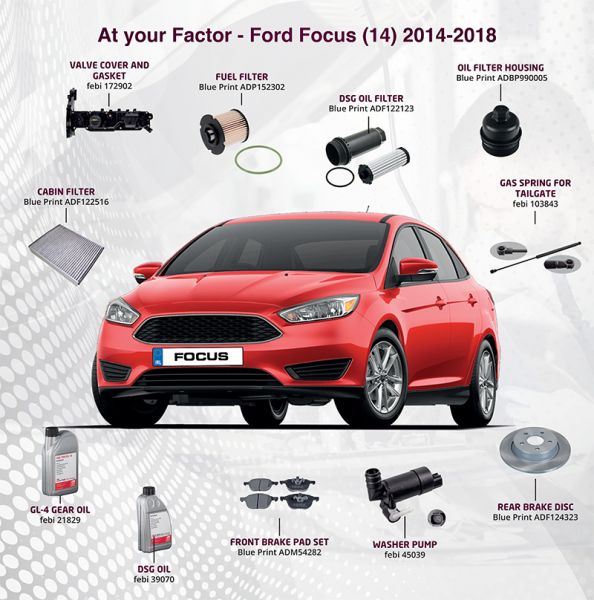 Thursday, September 30, 2021
From its launch in 2014, right through to 2018, the Ford Focus (14) was always in the annual top four selling cars in Ireland. This means that there are huge numbers on the road and most will now be on second or third owners, meaning that there is a high chance that they are getting serviced or repaired at an independent garage.

The Focus uses a number of sophisticated vehicle systems, meaning that repairs will often entail much more than basic component replacement. For this reason, febi and Blueprint have put together a comprehensive range for the Focus, featuring parts from simple service items through to more complex repair items and niche parts. All of these are available in OE matching quality and at prices that can offer very significant savings over the dealer alterative.

The range includes, filters and filter housings, including the all-important cabin filter, plus brake pads and discs. The DSG transmission is an area that can often require attention, so DSG filters and appropriate oil are also on offer. Also available and often in demand are the Tailgate Gas Spring, Water Pump and Valve Cover and Gasket.

These and many other febi and Blue print parts for the Ford Focus are available from local motor factors nationwide. Full details of all Focus parts can be found at: partsfinder.bilsteingroup.com.
Categories: