Somora offers component quality and value from VEMA Italy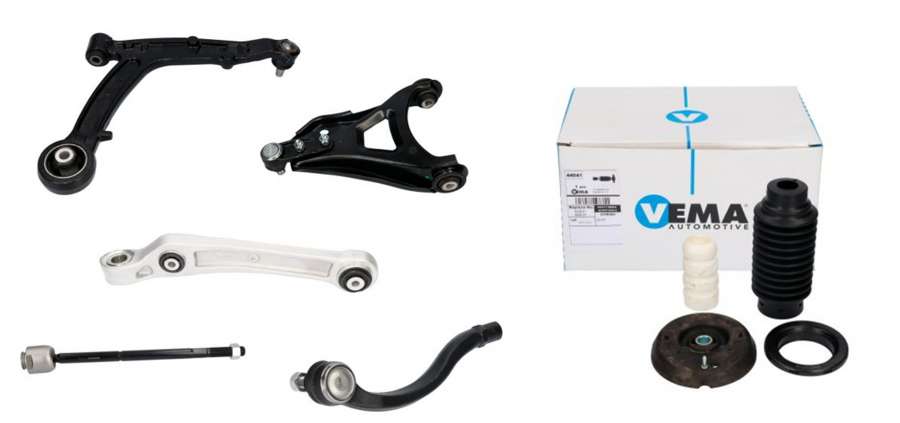 Tuesday, July 26, 2022
While some distributors have struggled to maintain business in the face of challenges, such as Brexit the pandemic and supply chain disruption, Somora Motor Parts has not only grown its business with its existing brand range, but also brought on some impressive new product lines to further boost its product offering and stock availability.

A recent major addition to the range has been the Italian VEMA brand, which celebrates 50 years in business this year. VEMA is well known throughout Europe as a supplier of high quality parts that offer excellent value and application coverage. Initially Somora will be offering the comprehensive steering and suspension range, with more to be introduced over the coming months.

Since its foundation in 1972, VEMA Italy has been manufacturing and distributing quality components globally from its headquarters near Milan. The company has an innovative, pioneering operation with a dynamic approach, firmly focused on the evolving European aftermarket.

Right from the start, initially as a manufacturer of steering and suspension parts, the company has always positioned itself as a trusted leader in the European aftermarket for innovation, quality and competitiveness.

50 years after its inception, the brand is now well known and respected for much more than just steering and suspension. Its extensive range now has over 90 categories and over 18000 part numbers. The range is regularly updated with new products to meet market demand.

The quality of the VEMA Brand is reflected in its ISO 9001: 2015 certification and offers a generous 2 year warranty on its products.

As a family business, the next generation have vowed to continue "The Real Tradition Of Quality" and modernise their route to market, a prime example of this being the development a new 16000Sqm state of the art facility in Varedo near Milan to house their HQ and distribution centre.

The VEMA team also works tirelessly to ensure that its products come with the very best information and support, something that is crucial to aftermarket businesses. With this in mind, VEMA brand information is available via TecDoc and also through a helpful new app that has just been launched on both the IOS and Android platforms. This allows both factors and technicians to quickly identify the right product for a job, as well as providing all the relevant technical detail and images.

VEMA has quickly developed a good working partnership with Somora Motor Parts in Dublin, with the two companies sharing a common philosophy on quality and service. This has allowed Somora to offer motor factors a unique and broad range of VEMA steering and suspension components, which have been carefully selected to offer especially good coverage of the Irish parc.
Categories: