Schaeffler brings the 'garage of tomorrow' to Automechanika Birmingham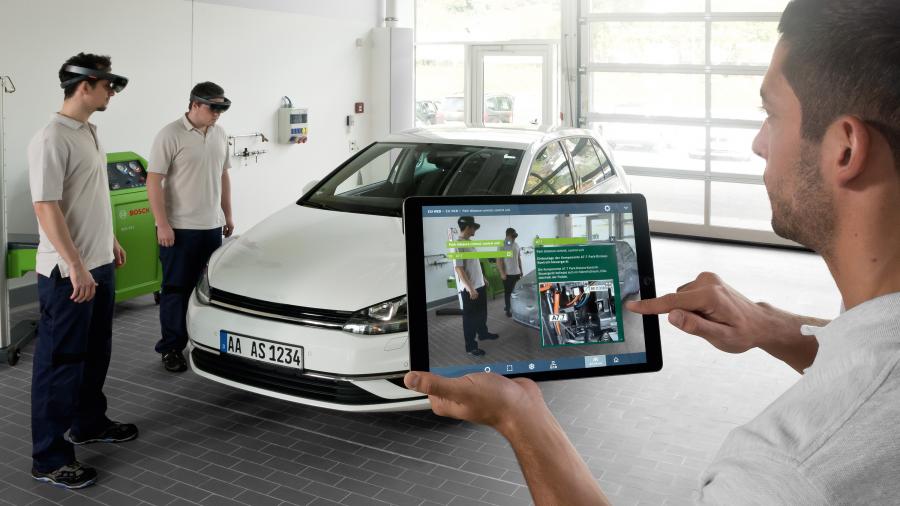 Wednesday, April 17, 2019
Schaeffler will be showcasing three innovative mixed and augmented reality exhibits, which demonstrate the 'garage of tomorrow' when Automechanika Birmingham opens its doors at the National Exhibition Centre between the 4th and 6th June.

The global original equipment manufacturer and supplier is inviting visitors to strap on the goggles and get hands-on with the mixed reality exhibits, which feature technology that is close to becoming a reality in the workshop.

The headsets display real-time heads-up instructions to the wearer, so that they can carry out a simulated actual timing chain or dual mass flywheel installation using real tools and components. The demonstrations are designed to show how repairs could be made easier and quicker in the future using interactive, live and online instructions from a specialist.

Switching to augmented reality, visitors can use an iPad to take a dive into the individual components of a complete FAG chassis system, zooming in and breaking down each part, as well as being able to view technical videos.

As well as the 'garage of tomorrow', Schaeffler is inviting REPXPERT members to be VIP guests at the show, using a unique link from the REPXPERT website. REPXPERT VIPs will receive hospitality on the Schaeffler stand, including lunch, a premium REPXPERT messenger bag full of workshop goodies, including a 'magnaband' wrist magnet, sports bottle, leaflet, pen and REPXPERT bonus points. They will also get the benefits of Automechanika's 'Big Garage Event' – all free-of-charge.

Technicians that are not already REPXPERT members can register for free at www.repxpert.co.uk prior to the event, or register live at the show using the REPXPERT pods. Either way, new members will be eligible for the full REPXPERT VIP hospitality package.

There will also be special guests and competitions throughout the three-day exhibition, including an appearance by Edd China. Edd is a guest of the OESAA campaign, but he will be popping onto Schaeffler's stand on Wednesday and Thursday with copies of his book, Grease Junkie, as well as posing for photos with visitors.

Schaeffler will also be giving away eight torque wrenches every day to the technicians with the best INA Torque Challenge scores, where they will learn about the importance of correct torque before trying out their new found skills. There will also be a top prize of a VIP DTM hospitality weekend for two at Brands Hatch for the most accurate 'torquer' over the whole three days.

The Schaeffler stand is located at S140.
Categories: