New Schaeffler Technical & Customer Support Vehicles hit the road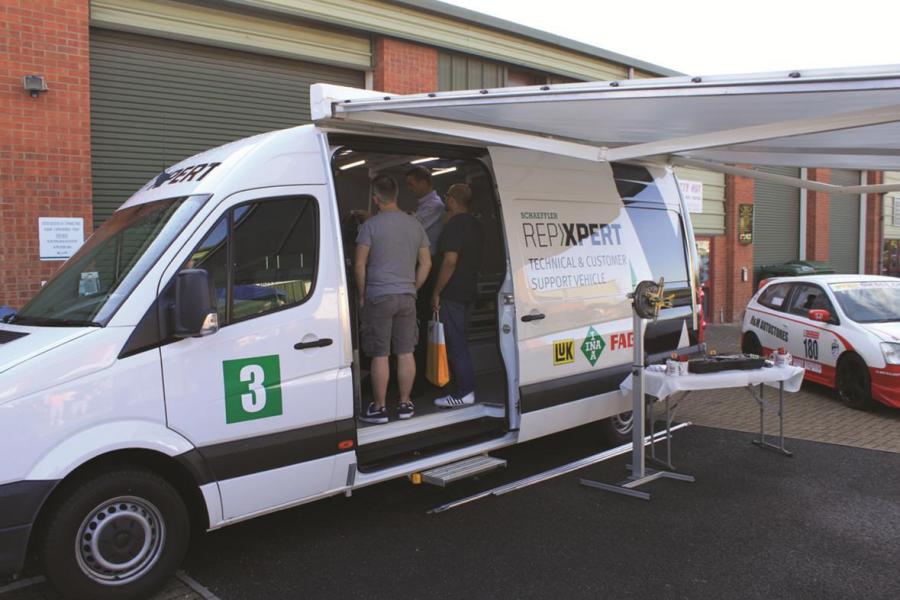 Wednesday, September 30, 2015
Schaeffler, the aftermarket supplier of the original equipment LuK clutches, INA tensioners and FAG wheel bearings is taking to the road with a brand-new fleet of 'Technical & Customer Support' Vehicles.

The company, which is renowned for its technical training expertise, has introduced three REPXPERT branded vehicles which will enable trainers to give hands-on professional support to technicians at trade shows and motor factor premises. Each van started its life as a high roof long wheel base Volkswagen Crafter, but have been heavily adapted to include a customised workshop style interior and a roof mounted race paddock style awning.

When in use at events, the vans will be fully loaded with an array of tools, product, equipment and training materials to create a 'mobile academy' experience for both Schaeffler distributors and their workshop customers. The vans will be based in different UK regions, but will also make regular visits across the Irish Sea.

Nigel Morgan, Managing Director for Schaeffler Automotive Aftermarket said, "We have put a lot of thought, effort and capital into putting this fleet on the road. Each van is essentially a mobile training academy in its own right, so they can be put to a wide variety of uses based on what our customers want to see."

During events, each van will carry two complete twin clutch gearboxes (VAG DSG and Renault DC4) plus the special tools required to work on them. There will also be DMF and SAC tools and demonstration units on board to allow mechanics to get hands-on with the technology.

INA will be well represented with a demonstration OAP and alternator set-up as well as all of the tools needed to make a professional belt system repair.

A variety of FAG equipment will also be on board, including the LCV repair solution tool along with a complete hub from a Mercedes Sprinter van. There will also be a Gen.2 hub replacement tool along with a mounted Gen.2 hub unit which can be removed and refitted by visitors during practical demonstrations.

The van contents will be updated and refreshed regularly as the company continues to introduce new technologies and repair solutions.
Categories: