Eure!Parts 7 has landed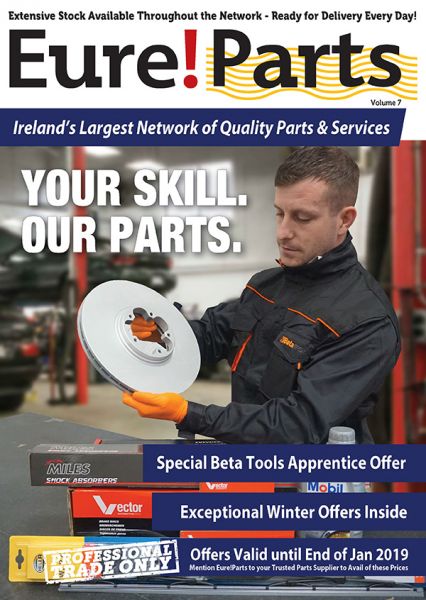 Friday, November 02, 2018
The much anticipate Eure!Parts promotional catalogue is included in the November issue of Autobiz magazine. This is the 7th edition of the catalogue which has been expanded to 24 pages packed with deals and special offers on components and equipment, as well as business building ideas.

In this edition the emphasis is road safety over the winter months. Promoting a road safety message through quality products is a win–win-win situation for motor factors, garages and motorist, so many of the product ranges featured have a critical safety theme. This includes special promotions on Hella Wiper Blades, and Philips Lighting, with a special focus on bulb upgrade options.

Also on a road safety theme, the catalogue encourages garages to always fit shock absorbers in pairs, a message backed by special prices on the Miles Shock Absorber range.

Other highlights in the catalogue include; special prices on Summit replacement door mirrors, great offers on replacement turbochargers from Nissens, deals on Autoelectro starters and alternators and a promotion on NGK spark plugs. There is also an innovative offer to for garages to provide tools and workwear for apprentices from Beta.

The Eure!Parts 7 Catalogue also includes details of the exciting Autoinform Live training event that will be taking place in Ireland for the first time in April next year.

Eure!Parts deals and special offers are available from participating local motor factors and run until January 31st 2019.
Categories: