Pioneer of parts distribution celebrates 40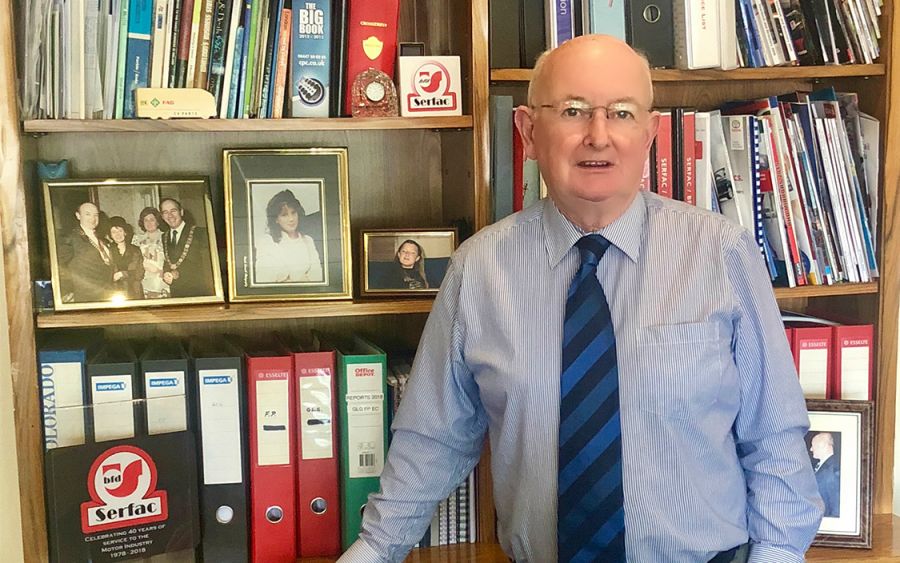 Brian Fanning, who along with Richard Quirke established Serfac in 1978
Monday, July 16, 2018
Serfac Limited, one of the most respected names in Irish parts distribution, celebrates 40 years in business this year. The company was one of the original pioneers in the kind of efficient parts distribution that the Irish aftermarket enjoys today and has successfully adapted over the years, to stay at the forefront of an increasingly fast paced and dynamic market.
Serfac was established by Brian Fanning and Richard Quirke, at a small premises in Harold's Cross in 1978. At the time, Brian, who remains very much involved in the operation of the company today, already had significant experience in parts supply and set about building a distribution business with a small portfolio of brands. He recalls, "We started with two staff and this very quickly became three. The growth continued over the years, meaning a constant progression with more staff and larger premises, bringing us to the large scale operation we have today."
The market was of course very different 40 years ago, with a relatively limited car parc and a small number of suppliers, most of which had exclusive deals with single Irish distributors. Brian says, "From the start we put great emphasis on selecting the right brands to work with. This is a philosophy that remains today, as we see each supplier relationship as a partnership and work closely with them to offer our customers the very best in terms of product and service."
Brian is also quick to stress that two other vital aspects of the business development have been loyalty in terms of both staff and customers. He comments, "Staff continuity has always been vital to Serfac. The vast majority of our staff have very long service records with the company and provide the type of in-house knowledge and experience that cannot be developed overnight." He adds, "Similarly, many of our motor factor customers have been with us since the start and we have built strong relationships of trust and understanding with them."
Adapting to the changing market has also been a key to the success of Serfac and this was most recently demonstrated with the opening of an additional warehouse and implementation of a new digital warehouse management system, to complement the head office and warehouse facility in Tallaght. Brian's daughter Gillian, who is the Marketing Director of the company says, "The range and depth of our product offer has significantly expanded to meet customer demand and we needed the new facilities to further enhance our level of customer service. We offer one of the most extensive product ranges in the Irish automotive aftermarket and we pride ourselves on delivering these products, promptly, efficiently and on a right first-time basis to our customers."
The rapidly expanding product range has seen many new product lines added in recent months to meet changing market demand and these have included high profile brands such as Brembo, Sonax, Dreumex and NRF. Throughout the range the emphasis is on quality, with many of the brands stocked being major OE suppliers. Serfac also recognises the importance of fast accurate product information and always ensures that its ranges are detailed on digital catalogue platforms such as Tec Doc and MAM Autonet. The company also works hard to ensure excellent product availability.
Access to many leading brands in the portfolio has come about through the company being the Irish shareholder in TEMOT International. This global organisation is a leading strategic automotive network and not only provides Serfac with access to market leading suppliers, but also essential technical information, training and technology solutions. Gillian says, "In this fast changing environment we felt it was important to align ourselves with leading parts suppliers in other countries, to network and pool resources. Being part of TEMOT has proved invaluable and will be increasingly important in the future."
With the international resources of TEMOT to draw on, a strong brand portfolio, highly efficient service and a vastly experienced team, which also includes another of Brian's daughters, Louise, HR Director, Brian and Gillian are very confident about the years ahead for the company, at a time when many in the aftermarket are looking ahead with more uncertainty. Gillian, who also has influence on the market through her role as Chairperson of SIMI Wholesalers Committee, says, "It is a challenging market, but we can see a bright future for both ourselves and our loyal motor factor customers. We firmly believe that motor factors offer the best means of serving the market and we are fully committed to supporting them with the very best in products, services, support and training.
Categories: