ContiTech adds new water pump kits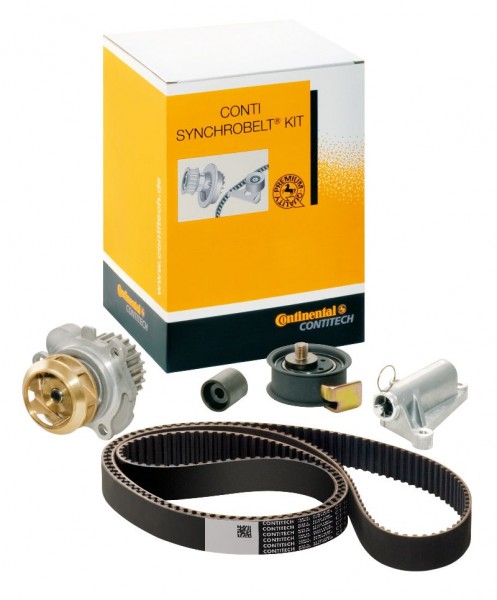 Wednesday, March 20, 2013
ContiTech Power Transmission Group is adding 22 new water pump kits for European vehicles from various manufacturers to its range. These complete kit packages contain a timing belt, tension or idler pulleys and a water pump. The new kits will be available in April.

Water pumps perform a vital function circulating coolant through the engine, ensuring a uniform operating temperature. A faulty water pump can quickly cause severe damage: from an overheating engine to a damaged timing belt which, in the worst-case scenario, could cause complete engine failure. ContiTech therefore advises that the water pump, along with the tensioning and idler pulleys, should always be replaced when changing the timing belt. This ensures trouble-free long term system operation.

ContiTech says when changing the water pump, workshop staff should always compare removed parts with the new components and check whether the dimensions and appearance match. It is also important that all components and surfaces must be clean, grease-free and dry. New seals should always be fitted and it is recommended that workshops only use the coolant recommended by the vehicle manufacturer. Once installation of the water pump is complete, the correct belt tension must be set in order to guarantee that the timing belt drive runs problem free.

The kits from ContiTech with a timing belt and water pump make it easier for automotive professionals when replacing all the components of a belt drive at the same time. The OEM-quality parts are perfectly matched with each other and do not have to be ordered individually meaning further time saving and added convenience.

ContiTech offers 122 water pump kits covering over 90 percent of all European vehicles in which the water pump is driven by the timing belt. Detailed information on automotive applications is available at www.contitech.de. The complete packages are also listed in TecDoc.
Categories: