Draper adds specialist Hybrid and Electric Vehicles socket sets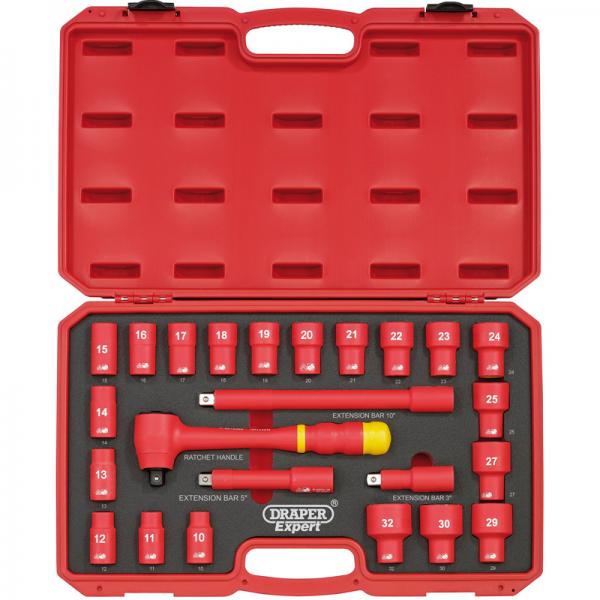 Thursday, November 22, 2018
Electric and plug-in hybrid is the fastest growing area of vehicle sales and these types of vehicle are also having and increasing impact in the aftermarket. However, tool specialist Draper says that many independent garages are missing out on business potential in this lucrative repair and maintenance field because they do not have the proper insulated, VDE approved, tools to safely carry out work on hybrid or electric vehicles.

Draper Tools has recently launched a huge range of socketry, including a series of VDE socket sets and individual accessories, designed for use with electric and hybrid vehicles. These are all part of the high-quality Draper Expert range and are manufactured from tough chrome vanadium steel, correctly hardened and tempered and chrome plated and feature the Draper Hi-Torq® 6 point drive system.

Draper says every VDE Socket in the range is manufactured to exacting DIN Standards and individually certified to EN 60900. For safe live working each socket has been tested to 10,000 volts, ensuring their ability to work at 1,000V AC or 1,500V DC. The patented tapered working end of the socket and the protective coating makes the sockets more durable in any tough working environment.

The Draper Expert VDE range is based around three comprehensive VDE Socket Sets:
18-Piece 1/4" Square Drive VDE Socket Set (Stock no: 31037)
19-Piece 3/8" Square Drive VDE Socket Set (Stock no: 31057)
24-piece 1/2" Square Drive VDE Socket Set (Stock no: 31070)
The VDE sets all come securely packed in a tough blow mould case, for easy storage and portability. The high-quality closed cell EVA foam inner of the rugged plastic carry case also prevents the sockets being damaged during transportation.
These sets are just part of the huge new range of socketry from Draper Tools, which is one of the most comprehensive in the company's history, comprising over 600 products. To see the full range visit drapertools.com. Sets are available from stockist nationwide.
Categories: