Pro-Align
Specialist wheel servicing equipment supplier, including the Hunter 4 wheel alignment system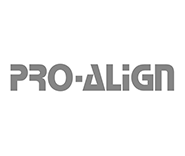 Pro-Align

Specialist wheel servicing equipment supplier, including the Hunter 4 wheel alignment system
Pro-Align is a major supplier of garage equipment, with special emphasis on the field of wheel servicing. The company has great knowledge and experience in its field of expertise, as well as a carefully selected product range that covers Wheel alignment systems, Wheel balancers, Tyre Changers and Alignment lifts. Pro-Align is the distributor in Ireland for the much respected Hunter brand of equipment.

All equipment supplied is backed by a complete range of customer services provide by the expert Pro-Align team. This includes design, installation, training, marketing support and full aftersales service. The company also deals with customers of all sizes and types, from vehicle manufacturers and dealers through to small independents.

In particular, Pro-Align is very active in the field of four wheel alignment, which represents a huge area of business potential for many motor trade businesses. Here the company can demonstrate how its equipment packages, education and training can provide an excellent business opportunity with excellent profit potential and a fast return on investment.
Last updated 26th Jan 2018