Revive
A simple and effective turbo cleaning solution that restores power and reduces emissions.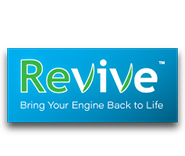 Revive is turbo cleaning system based on aviation technology that makes it quick and easy to solve many common turbocharger issues and to restore lost power. Turbo issues have become more and more common in recent years through a combination of an aging, largely diesel, car population and poor vehicle service regimes. Revive can effectively and economically eliminate many problems associated with turbo engines, especially for variable Nozzle / Vane Turbos and is also a great preventative treatment especially on TDIs. Using Revive requires no disassembly or soaking. The advanced formula product is simply sprayed into the vehicle's intake system before the turbo inlet whilst the engine is running. As the fluid passes through the engine, the active ingredients lock on to built up oily/carbon deposits and strips away surface layers. The procedure results in reduced emissions, improve fuel economy and improved engine performance at a fraction of the cost of turbo replacement. Revive treatments are safe water based, non toxic, non corrosive and non flammable fluids, using technology developed and used for the cleaning and maintenance of aviation jet engines. The Revive system has gained favour with garages across Ireland who have discovered its unique problem solving and revenue generating potential.
Articles tagged "Revive"



Printed from Autobiz.ie website
www.autobiz.ie