Pierburg
A long established OE and aftermarket supplier of specialist engine components.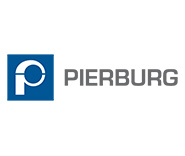 Pierburg is a first-tier supplier to the automotive industry, with a history dating back to 1909. Today it is part of the KSPG Group and is a specialist in the field of emission control and air supply systems, throttle valves and solenoid valves. Pierburg first started producing carburetors in 1928 and developed to be the sole supplier to all German carmakers and many international motor vehicle producers and engine manufacturers. Building on its many decades of experience combined with innovative and globally acknowledged capabilities in every aspect of the engine, the company has become both a major OE and aftermarket component supplier, developing and manufacturing forward-looking components, modules, and systems. The expertise of Pierburg has gained increased prominence in more recent years, as it works closely with car manufacturers in the quest for engine innovations which offer reduced fuel consumption, lower emissions and enhanced performance, comfort and safety. Other areas of Pierburg speciality include on-demand controlled electric coolant pumps, DC-motor driven exhaust gas re-circulation systems, divert-air valves, as well as the many different versions of drive modules. All these developments help to create economically and ecologically balanced vehicles.
Articles tagged "Pierburg"



Printed from Autobiz.ie website
www.autobiz.ie