First Line
Leading aftermarket parts supplier offering the First Line, Borg & Beck and Key Parts brands.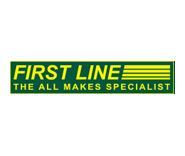 First Line Ltd. is an established world-wide supplier with over 35 years experience supplying premium quality automotive components to the vehicle aftermarket. The comprehensive, all makes, portfolio offers an extensive range of over 40,000 references of Chassis, Engine and Braking components for all makes of vehicle. The company has formed strong, long-standing, relationships with its global manufacturing partners, which mean that it can provide customers with a consistent level of premium quality products that are perfect for the application in question. This backed by excellent levels of availability and exceptional customer service. The First Line Group also includes other leading component brands including Borg & Beck, which has a 100 years history of engineering excellence and OE heritage. It was the first company to patent the sliding clutch and went on to be leading OE clutch supplier. Borg & Beck was purchased by First Line Ltd in 2006, who have invested heavily in new product development to bring the range up to date and increase the product portfolio. Today, the brand is a vital part of the company's global growth ambitions and now offers a portfolio of over 60 product lines and 40,000 references to the aftermarket. Key Parts is another First Line brand which builds on the expertise and experience of the company to offer a pure and simple range of components under the respected Key Parts brand. This reflects the commercial realities that drive certain sectors of the market. Introduced in 2012 the Key Parts range delivers quality products at competitive prices. It covers the key fast-moving applications across Braking, Steering & Suspension, Wheel Bearings, Water Pumps and Clutch Kits, offering minimum stock investment for maximum sales opportunity.
Articles tagged "First Line"



Printed from Autobiz.ie website
www.autobiz.ie