Autoinform
A Must Attend new technology automotive training event to be held in Ireland the weekend of 27th & 28th of April.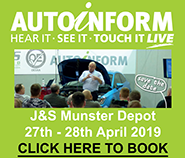 Technical training provided by experts, is now vital for success in the independent garage sector and Autoinform provides training courses, events and information to keep technicians up-to-date with the latest automotive technology developments and to meet the challenges of a fast changing aftermarket. In 2019, for the first time, Autoinform will be staging its flagship training event Autoinform LIVE in Ireland. This is a 'Hear it, See it and Touch it' training experience that delivers a flexible combination of demonstrations, lectures and practical training sessions, with programmes tailored to different aspects of diagnostics, repair and garage development. Autoinform LIVE is a high profile automotive training weekend that has already been hugely successful in the UK. It is backed by the Original Equipment Suppliers Aftermarket Association (OESAA), in association with ADS, the leading automotive training provider founded by Frank Massey. The 2019 event will take place at the Munster J&S Automotive Training Centre at Little Island in Cork on Saturday April 27th and Sunday April 28th. The weekend will see individual training modules delivered by experts in their field, with many providing live demonstrations on working vehicles. There will also be training and information seminars aimed at enhancing independent garage businesses and boosting revenue. Companies and organisations already confirmed to attend include; NTN/SNR, Denso, The DPF Doctor, Picotech, ZF, Schaeffler, The Garage Inspector, ADS, Hella, Banner Batteries, Beta Tools, OESAA and REPXPERT, with more to be confirmed. These experts will be covering a wide range of subjects that include; AirCon Systems, DPF Cleaning, Wheel Bearing fitting errors, Oscilloscopes, Vehicle communication networks and High voltage systems. This is a 2-day training event that is a must for any progressive independent garage or enthusiastic technician, providing knowledge, training and information that can help secure their future in a fast changing industry. For more information or to book your place click on the image at the top of this page. Bookings can be made by contacting Autobiz on 01-905-9500. (Please select option 3)
Articles tagged "Autoinform"



Printed from Autobiz.ie website
www.autobiz.ie