Schaeffler's LuK double clutch training gets garages geared up for the future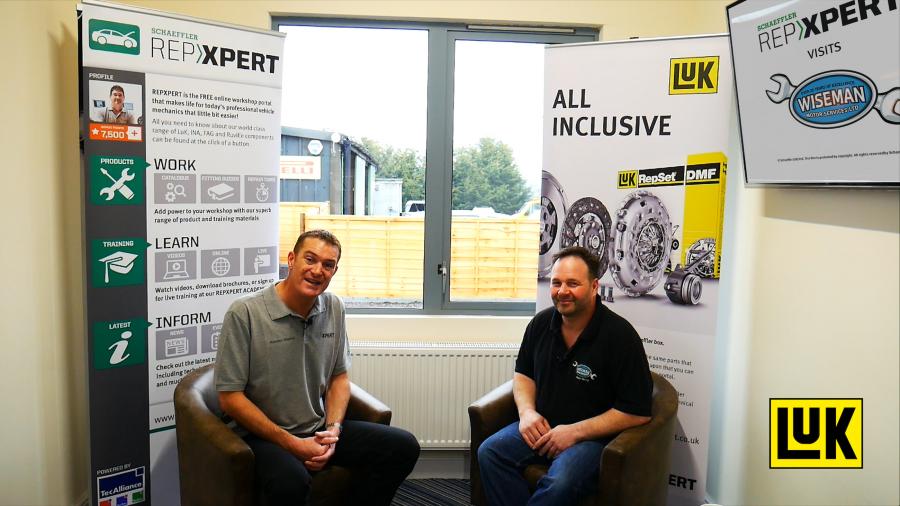 Monday, March 25, 2019
LuK double clutch training offered by Schaeffler REPXPERTs give independent garages access to a lucrative additional business opportunity. To see the impact it has had at one Birmingham workshop REPXPERT Alistair Mason recently made a return visit to Wiseman Motor Services.

Prior to the training Alistair carried out last year, the workshop was unable to diagnose or replace double clutch systems; therefore, Matthew Wiseman, the workshop's owner, was forced to turn away work and vital revenue. He commented, "Vehicles requiring double clutch servicing were becoming more frequent, so I knew that we had to upskill our team to carry out the necessary repairs. Asking for the training was very easy, as we already had access to the REPXPERT portal, so I made the call and the team could not be more accommodating."

Matthew added, "All of our team now have the confidence and knowledge to correctly diagnose any issues and carry out a repair, using the correct parts and tooling, with the comfort of knowing that the excellent REPXPERT portal is there should we need any technical help. Having Schaeffler as a back-up is pivotal for us."

Schaeffler prides itself on providing independent technicians with a 'complete repair solution' – including OE parts, tools, training, brochures and videos, which helps build trust between a paying customer and workshop. As part of this the company strives to ensure technicians are kept up-to-date and informed about recently-launched technologies and innovations, such as pulley decouplers for front-end auxiliary drive systems and thermal management units, as well as those yet to come, such as iARC (Intelligent Active Roll Control) stabilisation systems.

Alistair commented, "Through regular workshop visits, such as this one to Wiseman Motor Services, technical training events such as Autoinform LIVE Ireland and the REPXPERT portal, Schaeffler will continue giving its customers the best service it can."

REPXPERT members can access online and live training, installation videos, technical guides and Schaeffler product-related TecRMI data by visiting www.repxpert.co.uk. They can also redeem bonus points found in all LuK, INA and FAG boxes against the complete library of TecRMI data, as well as a range of workshop-related promotional items from the bonus shop.

Schaeffler REPXPERT will be carrying out LuK double clutch training at Autoinform LIVE Ireland which takes place on Saturday April 27th and Sunday April 28th in Little Island, Cork. For more information and to book your place please call 01-905-9500 and select option 3.

Categories: