NTN-SNR
Experts in the supply of OE and aftermarket wheel bearings and other components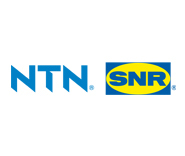 NTN-SNR

Experts in the supply of OE and aftermarket wheel bearings and other components
NTN-SNR has built a strong reputation for quality, innovation and expertise in many key aftermarket product sectors. As part of an organisation that supplies many of the world's largest and most prestigious automotive OEM manufacturers, NTN-SNR delivers high-quality product solutions to the aftermarket, based on OE pedigree.

NTN-SNR offer a range of specialist aftermarket components, including wheel bearings and wheel bearing kits, steering and suspension products, engine, gearbox, clutch and timing components. The company has been a pioneer in many product sectors, and was responsible for original innovations such as Active Sensor Bearings.

The aftermarket range is constantly updated to reflect the changing vehicle parc and is fully supported by first-class cataloguing and technical information.
Last updated 11th Dec 2018