Gates
Major global supplier of automotive components including its renowned belt drive systems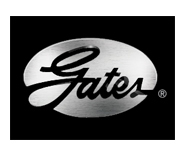 Gates

Major global supplier of automotive components including its renowned belt drive systems
The Gates Corporation is a leading manufacturer of hi-tech rubber belts and hoses for industrial, hydraulic, agricultural and automotive applications. The company supplies to all major car, commercial vehicle and machine manufacturers worldwide. It also supplies products across many other industries.

Gates is a major supplier to the global automotive aftermarket. It is synonymous with high-quality products and services that solve problems and add value. As a supplier to virtually all car manufacturers, Gates belt drive systems are specified by OEMs around the world, which enables the company to provide OE-equivalent to aftermarket customers. Gates timing belts and timing belt kits are especially popular with Irish technicians.

As well as belt drive systems, synchronous belt drive systems and belt drive accessories, Gates also supplies many other components. These include; thermostats, radiator and expansion tank caps, coolant and heater hose, hose connectors, fuel hose and connectors, fuel caps, flexible air duct and air vent hose. The company supports this with specialist tools, extensive technical back-up and comprehensive product and fitting information.
Last updated 20th Dec 2018