Mannol 7715 meets rising VW 504/507 oil spec demand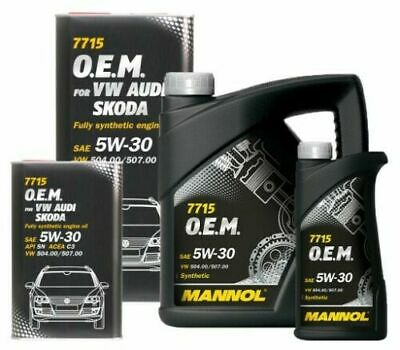 Tuesday, July 13, 2021
Used in a whole host of Audi, Seat, Skoda and Volkswagen applications, VW 504/507, 5W-30 specification oil is one of the most in-demand in the Irish aftermarket and is in especially high demand as vehicle mileages begin to build as Covid restrictions are eased. A huge numbers of independent garages now make the Mannol 7715 version of this oil their first choice because of the great value, performance and long life it can deliver.

Mannol 7715 504/507 5W-30 is a universal premium synthese engine oil, containing PAO, that is suitable for modern petrol and diesel engines of VW group cars and models from other marques. It is suitable for engines with; direct injection and those with and without turbocharging, including those equipped with pump-injectors (Pumpe-Duse).

This advanced oil contains special friction modifiers, which means it has excellent anti-wear, extreme pressure properties, which ensures long and trouble-free operation of the pump-nozzle system and the entire fuel distribution mechanism, reducing cam wear. It also features excellent detergent-dispersing properties and high thermal-oxidative stability, to effectively combat all types of deposits and keep engine parts clean.

The lubricant has a fuel saving formulation and aids low temperature starting, thus reducing starting wear. It also has optimal viscosity over a wide temperature range, which ensures stable operation in all operating modes, including in urban mode and under overload conditions.

7715 is compatible with all exhaust gas neutralization systems, including DPF, TWC, EGR and SCR through the use of Mid SAPS technology. It can be used in engines with extended oil change intervals up to 30,000 km well as to conventional service schedules.

Mannol 7715 5W-30 is designed for petrol and diesel engines conforming to EURO IV and EURO V standards covering cars, light SUVs, vans and light trucks. It meets the additional VW requirements on motor oils in accordance with the specifications 504.00/507 and also meets key Mercedes Benz, BMW and Porsche specs.

The oil is available in a full range of pack sizes from motor factors nationwide.
Categories: