Stand apart from the competition with XPERT-60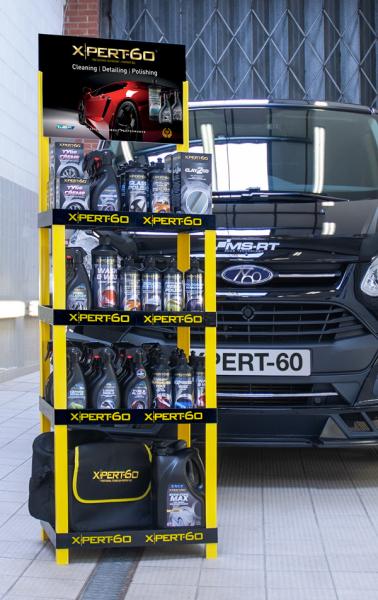 Tuesday, April 02, 2019
Carcessories is offering their customers the opportunity to stand apart from their competitors, in the highly competitive world of car care and cleaning products, with a special promotion on XPERT-60 point of sale display stands.
The XPERT-60 range features a variety of professional quality products in pack sizes designed to appeal to both discerning car owners and professional detailers. These products are derived from the advanced formulations developed for the highly respected Concept Chemicals trade range and so utilise the very latest technology to deliver exceptional results. The range features products that are very attractively packaged and include everything from cutting edge Nano technology to pure Carnauba waxes. It also offers colour changing wheel cleaner/fallout remover and a very popular tyre crème.
The products can be presented on an eye catching compact, free standing display unit that can generate retail sales, repeat business and maximise the potential from valuable limited retail floor space, while maintaining a healthy sales margin.

Greg Lonergan of Carcessories says, "The feedback we get on XPERT-60 products is 100% positive. It is a range that really can make a factor stand out in the lucrative cleaning, detailing and polishing sector, allowing users to produce a showroom finish quickly and easily."
Greg says that all of the XPERT-60 products have been very well received by end users and one item that customers are especially enthusiastic about is XPERT-60 Tyre Crème. This is a high performance product for adding a long life 'wet-look' shine to tyre walls. It leaves a non-tack glossy finish and is very quick, clean and easy to apply, using a bespoke foam applicator. As well as tyres, it is also suitable for other rubber products and exterior plastic trim. Greg points out that the Tyre Crème is also exceptionally economical to use, with a compact 225g container allowing the user to detail up to 80 tyres.
The XPERT-60 stand is now available from Carcessories, complete with a great value recommended stock package.
Categories: