Carcessories
Leading wholesale distributor in the field of car accessories, car care products and lubricants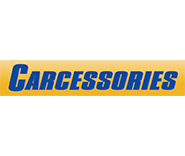 Carcessories

Leading wholesale distributor in the field of car accessories, car care products and lubricants
Established in 1957 Carcessories has built up a reputation for expertise in the lucrative vehicle accessory and car care business sectors. The company sources products on a global basis, to provide motor factors and retailers with a range of high quality products that delivers value for money and is in tune with motoring consumer demand.

The extensive range includes traditional vehicle accessories for both cars and trucks, a vast selection of always in-demand car care products, workshop consumables and tools. In more recent years the company has also become known for its expertise in the growing oils, lubricants and additives sector and has recently also introduced an expanding range of quality hard parts.

Now operating from a huge new warehouse and cash and carry facility near Dublin's Naas Road, Carcessories also has great expertise in merchandising and is able to supply customers with product stands with fully maintained stock, delivering hassle free sales with greatly reduced product handling and administration.
Last updated 20th Feb 2020