At Your Factor - VW Golf 7(5G)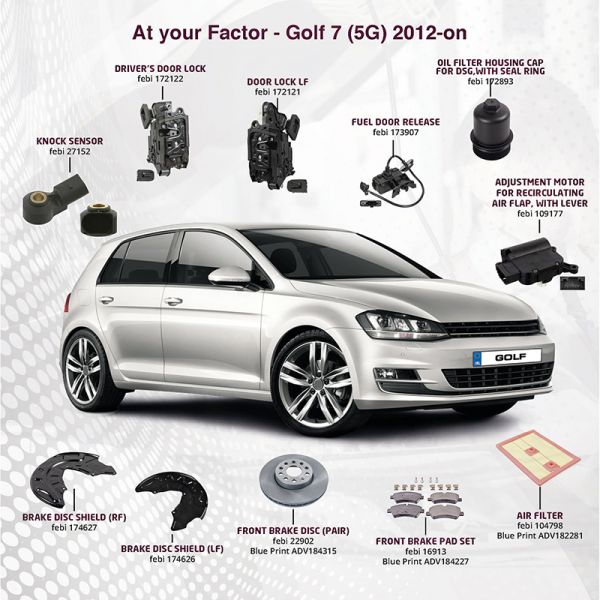 febi and Blue Print offer both in-demand service parts and specialist parts for the VW Golf
Tuesday, December 14, 2021
In its various forms the Volkswagen Golf has been a staple of the Irish passenger car market since the early 70's. First introduced in 2012, the latest version, the Golf 7 (5G), has continued this huge popularity, topping the Irish new car model sales list three times since 2014 and coming runner up twice. Since the start of 2014, 29,080 new Golfs have been registered and this figure has been further bolstered by thousands of used Golf imports.

All this means that the chances are independent garages are servicing and repairing Golfs on a regular basis. Getting the best value for customers and maintaining high quality standards is key to keeping Golf drivers coming back and parts specialists febi and Blue Print can provide very effective assistance in this area.

febi and Blue Print, not only offer the in-demand everyday service parts for the Golf such as brake pads, discs and filters, but also many more specialist parts that would sometimes be perceived as only being available from VW dealers. These include some items which are known to require replacement because of developing faults. Items available include; driver and passenger door locks, the fuel door release mechanism and an adjustment motor for the re-circulating air flap with lever. Other items in demand include; a replacement Knock Sensor, Brake Disc Shield and an oil filter housing cap for DSG variations complete with seal ring.

These parts are available from febi stockists nationwide. Full details can be found HERE.
Categories: